Samuel Adams


Close Nave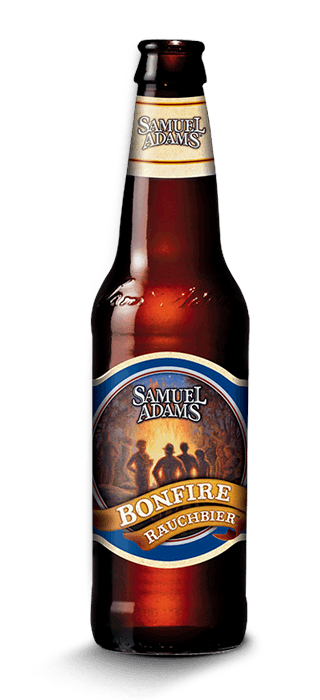 Samuel Adams
Bonfire Rauchbier®
Find Near You
This sultry brew is big and bold with a smoky character and smooth malty finish.
HOP VARIETIES
Spalt Spalter Noble Hops
MALT VARIETIES
Samuel Adams two-row pale malt blend, Caramel 60, Special B, and smoked malt
YEAST STRAIN
Bottom-fermenting Lager
COLOR
Dark reddish amber, SRM: 39
SPECIAL INGREDIENTS
ALC. BY VOL/WT
5.7% ABV - 4.4 ABW
AVAILABILITY
Not Currently Brewed
Every Craft Beer
Has a Story
THE TOOLS

The signature character of our Bonfire Rauchbier comes from its combination of specialty malts. Special B and caramel malt create notes a roasty malt sweetness with notes of toffee. Added another dimension of flavor, is the smoked malt that gives the brew a deep smokiness that perfectly balances the sweetness.

THE TRADE

Rauchbiers (smoke beer in German) are lagers which bottom ferment at cooler temperatures which help smooth our any rough edges in the brew. The generous portion of smoked malt as part of the grist bill gives Bonfire Rauch its distinctive character and flavor.

THE LEGACY

Prior to the practice of kiln drying, barley was dried either by sunlight or over a flame. The grains were suspended high enough for the fire's heat where the smoke could pass through without burning the malt. As a result, this process imparted a distinct smokiness in the malt that was prevalent in many beer styles at the time. Since then, kiln drying has replaced this method and the smokiness was removed from most beer styles. The exception has been in the Rauchbiers of Germany where the smoke remains as the hallmark of the style.