Samuel Adams


Close Nave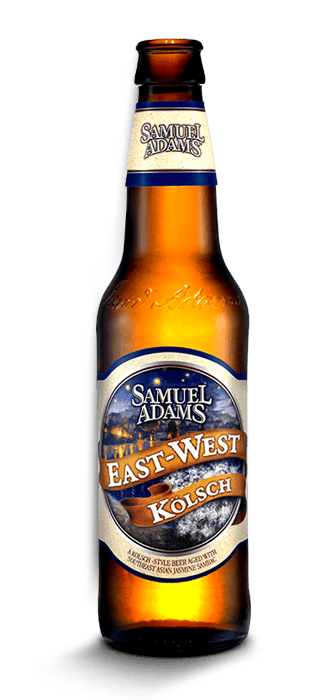 Samuel Adams
East West Kölsh
Find Near You
Light, fragrant, and refreshing, our interpretation of this classic German style is wonderfully bright and complex. Brewed with Alsatian hops for a lemony citrus note and Jasmine Sambac for a delicate and floral aroma and flavor.
HOP VARIETIES
Spalt Spalter, Strisselspalt
MALT VARIETIES
Samuel Adams two-row pale malt blend, malted wheat, and Bohemian pils malt
YEAST STRAIN
Top-fermenting Ale
COLOR
Pale golden, SRM: 5
SPECIAL INGREDIENTS
Jasmine Sambac
ALC. BY VOL/WT
5.0% ABV - 3.9% ABW
Food Pairings
Contrast
Every Craft Beer
Has a Story
THE TOOLS

Light and fragrant, Samuel Adams East West Kölsch has a floral and herbal character that balances the refreshing German Kölsch style. A classic Kölsch is less bitter than a pilsner with a lightly fruity and sweet biscuit note. For our version we developed a bright fresh flavor with Alsatian Strisselspalt hops for a subtle lemon and grassy hop note. We created another layer of flavor by aging the beer on a bed of Jasmine Sambac, a fragrant night blooming flower from Southeast Asia. The jasmine creates a delicate floral aroma and flavor for a wonderfully complex and refreshing brew.

THE TRADE

To create our Kölsch we followed the tradition of using a top fermenting ale yeast to develop delicate fruit notes and storing the beer cold at lager-like temperatures to develop a dry, crisp finish. For our Kölsch we used Strisselspalt hops from Alsace, France. These little known hops have a bright lemony, grassy hop flavor. These hops are derived from nearby Bavarian Noble hops and grow in the Alsace region that borders Germany. To add a new floral dimension we aged the beer on a bed of Jasmine Sambac. This prized night blooming flower grows across Southeast Asia and adds the perfect delicate floral aroma and flavor for a wonderfully complex and refreshing brew.

THE LEGACY

The Kölsch style originated in Köln (Cologne) Germany as their local specialty. This bright, golden beer is served in small narrow glasses called "stanges" with rounds brought out until your coaster is placed on your glass. The brewing process for making Kölsch is similar to the neighboring Altbier, from Düsseldorf. Both styles use top fermenting ale yeasts at warm temperatures but then employ cold lager-like storage. The only difference between the two is Altbier's slightly darker malts and higher bitterness. Each beer is coveted in these rival cities, so be prepared for some good-spirited ribbing in the event you order the wrong one in the home of the other.