Close Nave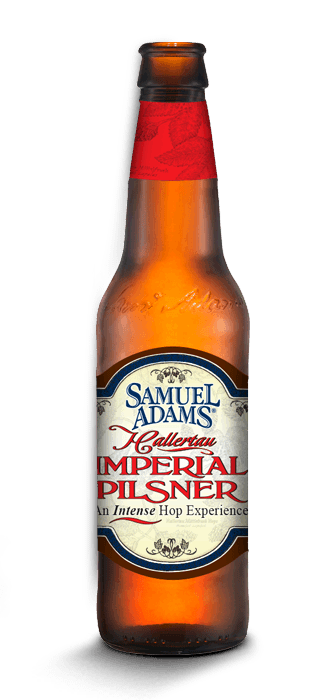 Samuel Adams
Hallertau Imperial Pilsner
Find Near You
An incredible showcase of extraordinary hops from start to finish, this brew weighs in at over 100 IBUs but is still a pleasure to drink.
HOP VARIETIES
Hallertau Mittelfrueh Noble hops
MALT VARIETIES
Samuel Adams two-row pale malt blend
YEAST STRAIN
Samuel Adams lager yeast
SPECIAL INGREDIENTS
ALC. BY VOL/WT
8.5%ABV – 6.6%ABW
AVAILABILITY
Imperial Pilsner
Food Pairings
Complement

Contrast
Every Craft Beer
Has a Story
THE TOOLS

Every autumn for over twenty eight years, Jim Koch has traveled to one of the oldest hop growing regions in the world: the Hallertau region of Bavaria Germany. It's there that we hand select the Noble hops for our beers, including the distinctive Hallertau Mittelfrueh used in Boston Lager. We wanted to feature this single hop variety in brewing a bold and intense imperial pilsner. Although used at extremely high levels, these delicate Bavarian hops also give the beer an intense hop character but one that's full of nuanced flavor without overpowering.

THE TRADE

This one-of-a-kind brew uses twelve pounds of Hallertau Mittelfrueh hops per barrel. To put that into perspective, Samuel Adams Boston Lager® contains about one pound of hops per barrel, and most beers contain about 1.5 ounces per barrel.

THE LEGACY

The original imperial beer style was the imperial stout, also known as the Russian imperial stout. Brewed in 19th century London for the Baltic trade, this beer quickly became popular with the food and wine loving Russian Tsarist courts. The beer was brewed with a higher level of alcohol and hops in order to preserve it for transport across the frigid Baltic Sea. As American craft brewers began to push boundaries in brewing, creating beers with higher gravity and greater flavor intensity, they used the term "Imperial" to indicate the beer was stronger than its original classic style.