Close Nave
Arugula and Watercress Salad with Pear Vinaigrette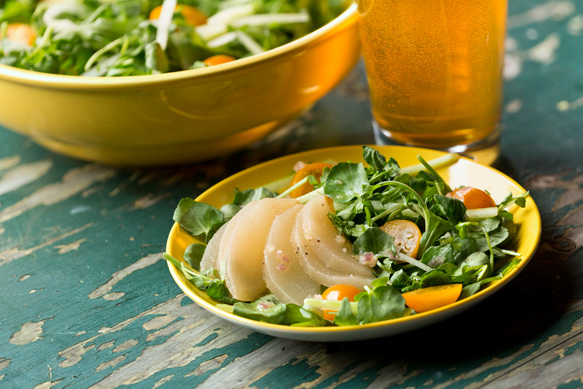 Directions
Yield: Serves 4
Put the pears in a large saucepan and add the lemon zest, grains of paradise, and ale. Bring to a boil over medium heat, cover the pan, and cook at a brisk simmer for 20 to 25 minutes, or until the pears are fork tender. Adjust the heat to maintain the simmer. Remove the pan from the heat and let the pears rest in the poaching liquid for 5 minutes. Using a slotted spoon, lift the pears from the liquid and transfer to a dish. Refrigerate the pears until needed.
Strain the poaching liquid through a fine-mesh sieve or double layer of cheesecloth into a bowl. Transfer the poaching liquid to a blender and add the shallot and lemon juice. Pulse for 1 to 2 minutes or until well mixed. Pour the mixture into a small bowl and slowly whisk in about 3/4 cup of the olive oil. Taste and add more oil, if needed. Season to taste with salt and pepper.
In a salad bowl, toss the watercress with the arugula, cucumber and tomatoes.
Remove the pears from the refrigerator and using a small, sharp knife, slice them so that they can fan out, but are still connected at the base of the fruit.
Toss the watercress and arugula together in bowl with the cucumbers and tomatoes. Drizzle with the vinaigrette, toss to mix and serve with the fanned pears on the side of the salad.
Ingredients
Serves 4
3 Asian pears, peeled and cored
2 tablespoons grated lemon zest
1 tablespoon crushed grains of paradise or 1 1/2 teaspoons cracked black pepper
12 ounces (1 ½ cups) Samuel Adams Summer Ale
2 tablespoons diced shallots
2 tablespoons fresh lemon juice
1 cup extra-virgin olive oil
1 teaspoon kosher salt
1 teaspoon freshly ground black pepper
4 bunches watercress, stemmed
2 cups loosely packed arugula
1/2 English (European) cucumber, peeled and julienned (cut very thin)
1 pint yellow teardrop or similarly sized tomatoes, halved or quartered, depending on size