Samuel Adams


Close Nave
Barbecued Miso Chicken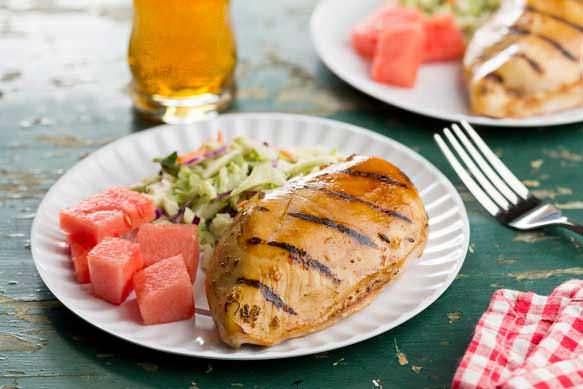 Directions
Yield: Serves 6
In a large glass or ceramic bowl, stir together the paste, soy sauce, lager, sugar, sesame oil, and cayenne until the miso and sugar dissolve. Submerge the chicken in the marinade, cover, and refrigerate for at least 2 hours and up to 6 hours.
Prepare a charcoal or gas grill so that it is medium hot.
Remove the chicken from the marinade and pour the marinade into a small saucepan. Bring to a boil over medium-high heat, reduce the heat and simmer for at least 5 minutes.
Grill the chicken breasts for 12 to 20 minutes or until cooked through and the juices run clear. The cooking time depends on the thickness of the chicken breasts. Baste the meat several times with the boiled marinade. Serve immediately.
Ingredients
Serves 6
1 cup miso paste or soy paste
1 cup low-sodium soy sauce
8 ounces (1 cup) Samuel Adams Boston Lager
1 cup sugar
2 teaspoons sesame oil
1/8 teaspoon cayenne
3 pounds boneless, skinless chicken breasts