Samuel Adams


Close Nave
Chocolate Marble Cheesecake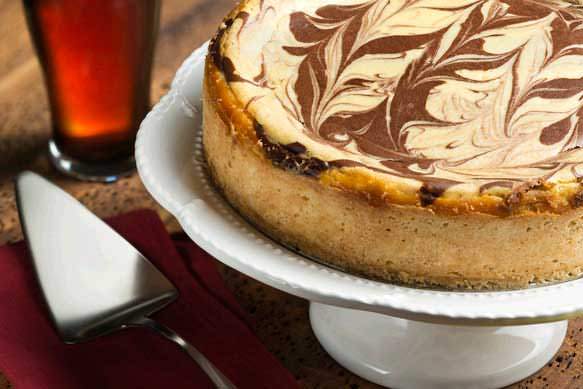 Directions
In a medium mixing bowl, mix the flour, sugar and salt. Blend in butter or margarine until crumbs are the size of large peas. In a separate bowl, mix egg, almond and vanilla extract. Sprinkle the liquid into the flour mixture, stirring just until combined and no trace of flour is left. It should be crumbly but hold together when pressed lightly. Lightly butter or grease 10-inch spring form pan. Press crust onto the sides and bottom of the pan forming thin, uniform crust. Repeat the process, covering the bottom of the pan. Use a small cookie cutter to flute the top edge. Refrigerate.
Preheat oven to 325 degrees. Beat cream cheese, sugar and vanilla until very light and sugar crystals are dissolved. Add eggs all at once and beat on low just until blended. Add heavy cream and stir just until blended. Set 2 cups of batter aside. Pour half the remaining batter into the prepared springform pan.
Stir in the cocoa powder with vegetable oil until smooth. Whisk in the Samuel Adams Samuel Adams Cherry Wheat® Cream Stout and almond extract. Stirring constantly, slowly add the 2 cups of reserved batter to the chocolate. Pour half the chocolate mixture over the plain cheesecake mixture in the pan using a zigzag motion. Gently spoon the remaining plain batter over the first marbled layer. Zigzag the remaining chocolate batter over the top. Draw a sharp knife through the mixture in a zigzag motion without disturbing the crust to create the marble effect.
Place in preheated oven and bake at 325 degrees for 60 to 70 minutes or until the center appears nearly set. Turn oven off and allow cheesecake to cool completely in the oven.
Remove sides of springform pan carefully, running a knife around the edge first, if necessary. Chill prior to serving.
Ingredients
Crust Ingredients:

1 ½ cups unbleached flour
½ cup sugar
1 tsp. salt
5 tablespoons chilled butter or margarine, cut into pieces
1 extra large egg
½ teaspoon almond extract
1 tsp. vanilla extract

Filling Ingredients:

1 3/4 pounds cream cheese (3 ½ 8 oz. packages)
2 cups sugar
2 teaspoons vanilla
6 extra large eggs
1 cup heavy cream
1/2 cup Dutch process dark cocoa powder
2 tbsp cup vegetable oil
½ cup Samuel Adams® Cream Stout
1 tsp. Almond extract