Samuel Adams


Close Nave
Grilled Cherry Wheat Vegetables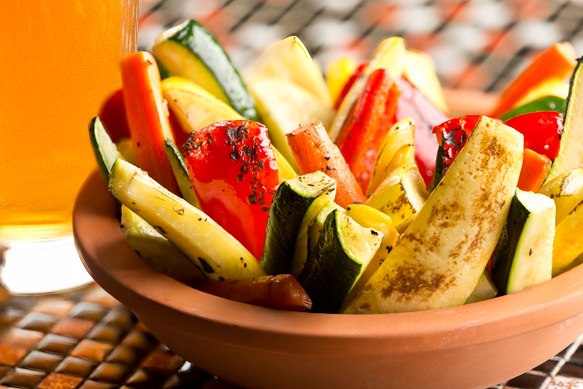 Directions
Yield: Serves 4 to 6
Add enough water to a saucepan to fill it about halfway. Bring to a boil over medium-high heat and add the sliced carrots. Let the water return to the boil and cook the carrots for 2 to 3 minutes or until the carrot begins to soften. Drain.
Arrange the carrots, zucchini, yellow squash, and peppers in shallow glass, ceramic or rigid plastic dish.
In the bowl of a food processor or a blender, mix together the beer, lemon juice, pepper, and salt. With the machine running, drizzle the oil into the marinade until its incorporated and thickened.
Pour the marinade over the vegetables. Sprinkle with the oregano. Cover and refrigerate for at least 1 hour and for up to 4 hours.
Prepare a charcoal or gas grill so that it is medium hot.
Lift the vegetables from the marinade and lay them on a grill tray. Grill for 3 to 4 minutes on both sides or until nicely charred and cooked through.
Transfer the vegetables to a serving platter and drizzle with a little of the leftover marinade. Serve hot, room temperature, or chilled, garnished with rosemary.
Ingredients
Serves 4 to 6
1 large carrot, halved and sliced lengthwise
3 zucchini, sliced lengthwise
3 yellow squash, sliced lengthwise
1 roasted red pepper, seeded and sliced into wide strips
2 teaspoons chopped fresh oregano
4 ounces (1/2 cup) Samuel Adams Cherry Wheat
1/4 cup fresh lemon juice (1 to 2 lemons)
1 teaspoon freshly ground black pepper
1/2 teaspoon kosher salt
1 cup olive oil
1 to 2 sprig fresh rosemary, for garnish