Samuel Adams


Close Nave
Grilled Lobster with Tomato Vinaigrette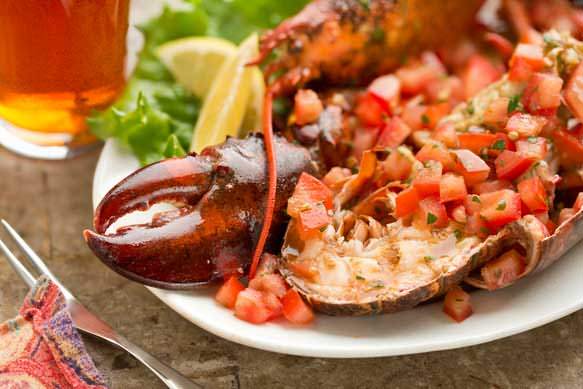 Directions
Yield: Serves 6
Bring a large pot of water mixed with 1 tablespoon of salt to a boil over high heat. Plunge the lobsters head first into the water. Cover the pot and let the water return to a boil. Cook the lobsters for 7 to 8 minutes or until the shells begin to turn red. By this time, the lobsters will be dead.
Drain the lobsters and let them cool so that you can handle them. Put the lobsters on a cutting board and with a sharp chef's knife, split the lobsters lengthwise through the shell. Remove and discard the intestinal vein. Crack the claws so that the meat will be easy to extract. Set aside.
In a mixing bowl, whisk together 1 tablespoon of the honey, the ginger, vinegar, lime juice, sesame oil, and coriander seeds. Add the tomatoes, beer, and cilantro, stir gently, and season the vinaigrette to taste with salt and pepper.
In a smaller mixing bowl, mash the butter with the remaining 4 tablespoons of honey and the lemon juice.
Prepare a charcoal or gas grill so that it is medium hot. Or heat the broiler.
Grill the lobsters, meat sides up, basting with the butter, for 6 to 8 minutes or until the meat is fully cooked. Serve the lobsters right off the with the vinaigrette spooned over them or on the side.
Ingredients
Serves 6
Kosher salt
6 live lobsters (each weighing about 1 pound)
5 tablespoons honey
2 to 3 teaspoons minced fresh ginger
2 teaspoons balsamic vinegar
2 teaspoons fresh lime juice
2 teaspoons sesame oil
1 teaspoon cracked coriander seeds
1 1/2 cups chopped fresh tomatoes
4 ounces (1/2 cup) Samuel Adams Octoberfest
1 tablespoon chopped cilantro
Kosher or sea salt and freshly ground black pepper
2 to 3 tablespoons unsalted butter, softened
2 tablespoons fresh lemon juice
Six 1-pound lobsters