Samuel Adams


Close Nave
Lagered and Angry Spareribs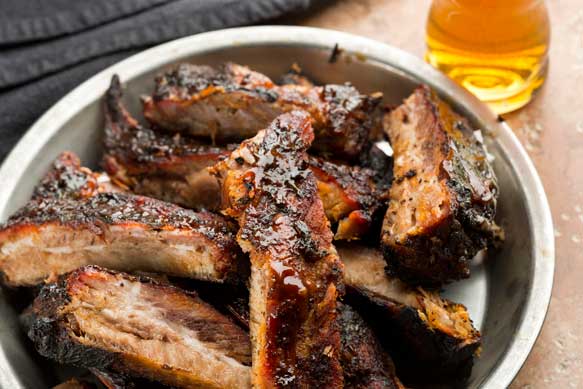 Directions
Yield: Serves 4 to 6
To make the braising liquid: In a glass, ceramic, or rigid plastic container, mix together the soy sauce, honey, lager, chili oil, and 2 cups of water. Stir well and when the honey dissolves, add the cilantro, garlic, star anise, and ginger. Cover and refrigerate until ready to use. This braising liquid can be made up to 1 week ahead of time if well covered and refrigerated.

To make the ribs: In a mixing bowl, stir together the salt, chili powder, and cayenne. Lay the ribs in a roasting pan large enough to hold them in a single layer. Sprinkle with the seasoning mix, rubbing it into the meat so that every piece is evenly covered. Set the meat aside for about 15 minutes at room temperature, or for at least 30 minutes in the refrigerator.

Using a brush, generously coat the spareribs with the braising liquid, cover, and refrigerate for at least 6 hours and up to 12 hours. Reserve any extra braising liquid.

Preheat the oven to 350°F.

Uncover the ribs and add any remaining braising liquid to the pan. Tightly wrap the pan with aluminum foil and put the pan over direct high heat on top of the stove to bring the liquid to a boil. Transfer the pan to the oven and braise for about 2 hours, or until a fork inserted into the meat comes out easily. (You can tear the foil open to check the liquid and meat.) Check the temperature from time to time and adjust it so that the braising liquid simmers. If it boils, reduce the oven temperature to 325°F.

Remove the pan from the oven and carefully lift the spareribs from the braising liquid to a clean baking sheet. Do not turn off the oven. (If you have lowered the temperature, return it to 350°F.) Using a brush, generously coat the spareribs with barbecue sauce and then return them to the oven for about 25 minutes, or until a caramelized crust forms on the ribs. (Alternately, grill the ribs for about 10 minutes, turning them to prevent the sauce from burning.) Serve the ribs hot.
Ingredients
Serves 4 to 6
Braising liquid:

5 cups soy sauce
1 1/2 cups honey
8 ounces (1 cup) Samuel Adams Boston Lager
1/2 cup chili oil
1 cup chopped cilantro
6 cloves garlic, smashed
3 star anise
One 2-inch knob fresh ginger, peeled and smashed:

Ribs:

4 tablespoons sea salt
2 tablespoons chili powder
2 tablespoons cayenne
4 pounds pork spareribs, trimmed of excess fat
About 2 cups storebought barbecue sauce