Close Nave
Latitude 48 Barbecued Shrimp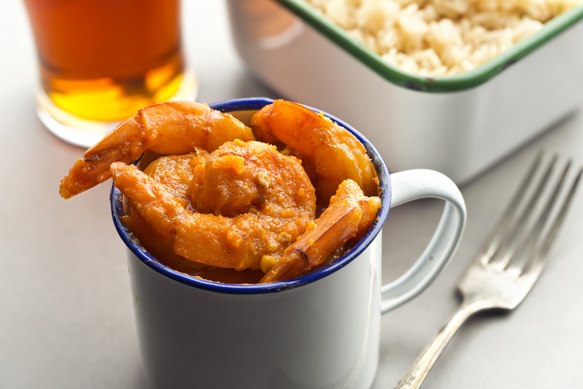 Directions
Yield: Serves 4
In a large sauté pan or wok, melt ½ cup of the butter over medium heat. When melted, cook the garlic for about 20 seconds. Add the shrimp, paprika and soy and cook, tossing, for about 1 minute.
Add the beer, lemon juice, pepper sauce, Worcestershire, and cumin and cook for about 3 minutes to blend into a sauce. Add the remaining ½ cup of butter and stir with the sauce until melted.
Divide the rice among 4 serving plates, top with the shrimp and pan sauce and serve immediately.
Ingredients
Latitude 48 Barbecued Shrimp
Serves 4
1 cup (2 sticks) unsalted butter
2 tablespoons chopped garlic
1 pound shrimp, peeled and deveined
2 tablespoons paprika
1 teaspoon soy sauce
1 cup (8 ounces) Samuel Adams Latitude 48
1 tablespoon fresh lemon juice
1 tablespoon red pepper sauce, such as Tabasco
1 teaspoon Worcestershire sauce
1/4 teaspoon ground cumin
4 cups cooked rice, for serving