Samuel Adams


Close Nave
Marinated Strip Steak with Steak Sauce Mayonnaise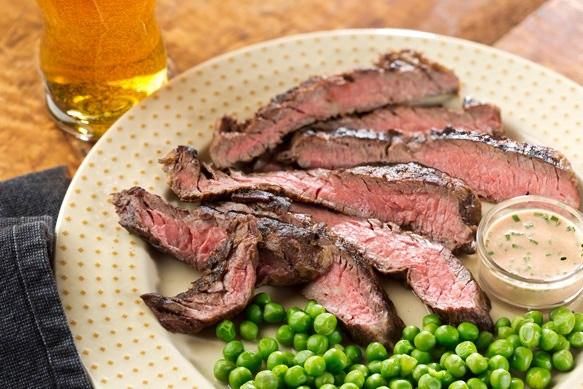 Directions
Yield: Serves 6 to 8
In a medium-sized bowl, mix together the mayonnaise, steak sauce, lager, chives, and pepper sauce. Season to taste with salt and pepper, cover, and refrigerate until needed.

In another bowl, combine the oil, lager, garlic, chili powder, both mustards, cayenne, paprika, and black pepper.

Cut the steaks in half lengthwise so that you have 4 pieces. Lay the steaks in a shallow glass, ceramic, or rigid plastic dish and pour the marinade over the meat. Turn the steaks to coat it on both sides, cover, and refrigerate for 4 hours and up to 12 hours or overnight. Turn the steaks a few times during marinating. Alternatively, put the steaks in a sturdy, zipped plastic bag, add the marinade and move the meat in the bag to coat it well.

Prepare a charcoal or gas grill so that it is medium hot. Or heat the broiler.

Lift the steaks from the marinade and let any excess drip back into the dish. Pat the steaks dry with paper towels and season them with salt and pepper. Grill for about 5 minutes on each side for medium-rare, or to your desired degree of doneness. Let the steak rest on a cutting board for about 5 minutes. Slice it crosswise against the grain.

Serve the steak with the mayonnaise sauce on the side.
Ingredients
Serves 6 to 8
1 cup mayonnaise
1 cup steak sauce, such as David Burke's Primehouse Steak Sauce
4 ounces (1/2 cup) Samuel Adams Boston Lager
1 tablespoon chopped fresh chives
1 teaspoon red pepper sauce, such as Tabasco
Kosher salt and freshly ground black pepper
2 cups canola or other vegetable oil
8 ounces (1 cup) Samuel Adams Boston Lager
3 cloves roasted garlic
2 tablespoons chili powder
2 tablespoons Dijon mustard
1 tablespoon dry powdered mustard
1 tablespoon cayenne
1 tablespoon paprika
1 tablespoon coarsely cracked black pepper
2 skirt or strip steaks (each about 1 ½ pounds)