Samuel Adams


Close Nave
New England Clam Chowder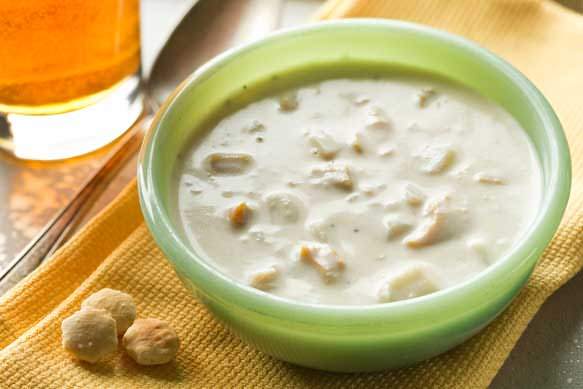 Directions
Yield: Serves 3 to 4
In a large pot, melt the butter over medium-high heat. When melted, add the carrots, peppers, onions, garlic and 2 tablespoons of the seasoning. Cook, stirring, for 2 to 3 minutes or until the vegetable start to soften but are still a little crunchy.
Add the flour, reduce the heat to low, and stir with the vegetables and butter to make as smooth a roux as possible. Continue to cook, stirring, for 1 to 2 minutes to rid the roux of the raw taste.
Add the potatoes, beer, clam juice and 2 cups of heavy cream. Raise the heat to medium-high heat and bring to a simmer. Cook at a gentle simmer for about 10 minutes, stirring occasionally, until the soup is slightly thickened and the potatoes are cooked through. Stir in the clams and simmer for about 5 minutes longer to insure the clams are fully cooked. Take care not to overcook the clams. Taste and adjust the seasoning with Italian seasoning. Add more cream if needed and heat through.
Ladle the chowder into bowls and garnish each serving with croutons and a parsley sprig.
Ingredients
Serves 3 to 4
1/2 cup (1 stick) unsalted butter
1/4 cup diced carrots
1/4 cup diced green bell pepper
1/4 cup diced yellow onion
2 tablespoons minced garlic
2 to 3 tablespoons dried Italian seasoning
1/2 cup all-purpose flour
1 cup diced russet potatoes
12 ounces (1 ½ cups) bottle Sam Adams Light
1/2 cup fresh or bottled clam juice
2 to 3 cups heavy cream
1/2 cup chopped fresh or canned clams
9 to 12 croutons, preferably homemade, for garnish
3 to 4 sprigs flat-leaf parsley, for garnish