Samuel Adams


Close Nave
Roast Pork Chops with Bacon and Wilted Greens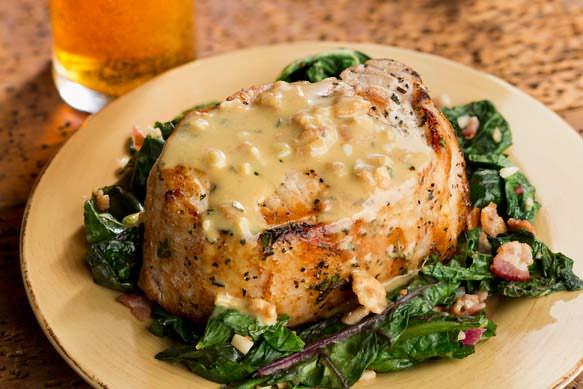 Directions
Yield: Serves 2
Preheat the oven to 475°F.
Sprinkle both sides of the pork chops with 2 tablespoons of the marjoram, the allspice, and generous amounts of salt and pepper.
In large, heavy nonstick skillet, heat the olive oil over high heat. When hot, add the pork and brown well on all sides, including the edges, for a total of about 7 minutes. Turn the meat with tongs and when nicely browned, lift the chops from the skillet and transfer to a small roasting pan.
Roast for about 9 minutes or until an instant-read thermometer inserted in the thickest part of a chop registers 145°F.
Meanwhile, cook the bacon in the same skillet for about 3 minutes or until browned. Add the greens and the garlic and cook, turning with tongs, for about 3 minutes or until the greens are just wilted. Season to taste with salt and pepper and using tongs, transfer the greens to a colander to drain. Leave some of the bacon pieces in the skillet.
Add the Octoberfest and mustard to the skillet and bring to a simmer over medium-high heat. Cook, stirring, for about 4 minutes or until slightly thickened. Add the remaining tablespoon of marjoram and season to taste with salt and pepper.
Mound the greens on each of 2 plates and top with the chops. Spoon the pan sauce alongside and serve.
Ingredients
Serves 2
2 pork chops, each about 1 ½ inches thick
3 tablespoons chopped fresh marjoram
1/2 teaspoon ground allspice
Kosher salt and freshly ground black pepper
2 tablespoons olive oil
2 thick-cut slices bacon, chopped
8 cups packed assorted greens, such as mustard greens and red Swiss chard, stemmed and cut into wide strips
2 garlic cloves, pressed
4 ounces (1/2 cup) Samuel Adams Octoberfest
2 tablespoons Dijon mustard