Samuel Adams


Close Nave
Roasted Venison Saddle Samuel Adams Chocolate Bock Mole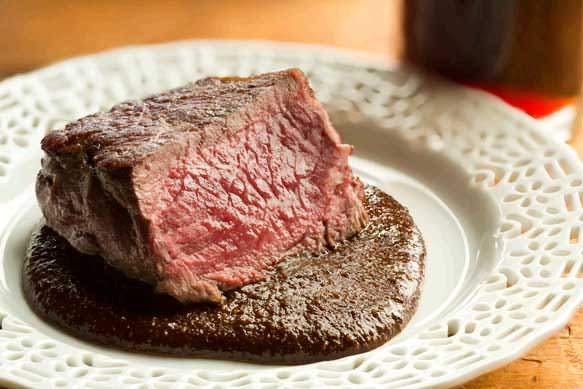 Directions
Yield: Serves 4
In a large saucepan, combine the bock, stock, apple, raisins, prunes, pumpkin seeds, almonds, honey, chiles, clove, and cinnamon stick. Bring to a boil over medium-high heat and immediately reduce the heat to medium. Cook at a gentle simmer for about 1 hour to give the flavors time to blend. Do not let the liquid boil after the first time.

Using a slotted spoon, remove and discard the clove and cinnamon stick. Transfer the mole to a blender or food processor and blend until smooth. Season to taste with salt and pepper and set aside. Reheat before serving, if necessary.

Heat a large sauté pan and when very hot, add the canola oil. Sear the venison steaks in the hot oil for about 5 minutes on the first side and then 6 minutes on the other side for medium-rare. At the last minute, add butter and thyme to the pan and baste the meat with the pan juices during the last minute or two of cooking. Remove the meat from the pan and set aside on a plate.

Spoon a puddle of mole on each of 4 serving plates and top with the venison. Serve right away.
Ingredients
Serves 4
12 ounces (1 1/2 cups) Samuel Adams Chocolate Bock
3/4 cup chicken stock, preferably homemade
1/2 tart apple, peeled, cored and chopped
1/4 cup raisins
3 pitted prunes
1 tablespoon pumpkin seeds
1 tablespoon slivered almonds
1 tablespoon honey
1 dried mole chile, lightly toasted [x-ref to roasting chiles]
1 dried pasilla chile, lightly toasted [x-ref to roasting/toasting chilies]
1 clove
1 cinnamon stick
Kosher salt and freshly ground black pepper
2 tablespoons canola oil
4 venison steaks (each weighing about 6 ounces)
1 tablespoon unsalted butter
1 teaspoon dried thyme