Samuel Adams


Close Nave
Samuel Adams® Irish Red Brined Grilled Pork Chops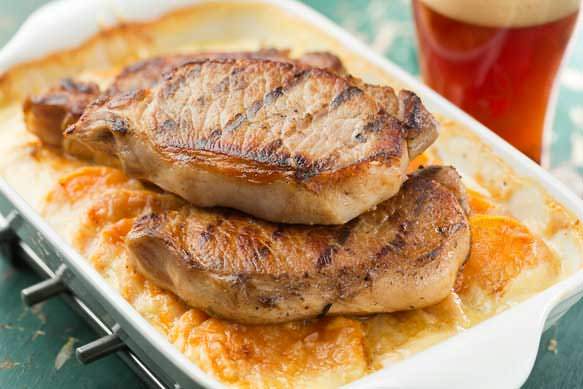 Directions
Yield: Serves 4
In a large pot or bowl, combine the ale, maple syrup, salt, bay leaves, allspice, fennel seed, garlic and onion. Add 2 cups of water and stir to dissolve the salt. Submerge the pork chops in the brine and weight them with a heavy plate to keep them covered with liquid. Leave the pork in the brine, refrigerated, for 3 days.
When you are ready to serve the pork chops, preheat the oven to 350°F.
Peel and slice the potatoes into 1/2-inch-thick slices. Layer them in an ovenproof casserole large enough to hold the pork chops in a single layer. Pour the cream over the potatoes and season with salt and pepper. Sprinkle with the grated cheese. Bake for 45 minutes or until hot and bubbling.
Prepare a charcoal or gas grill so that it is medium hot. Or heat the broiler. Grill or broil the pork chops for about 20 minutes, turning once or twice, or until an instant-read thermometer registers 160°F. when inserted in a thick part of the meat. Let the pork chops rest on a cutting board for about 5 minutes before serving with the sweet potato gratin.
Ingredients
Serves 4
24 ounces (3 cups) Samuel Adams Irish Red Ale
1/2 cup maple syrup
1/2 cup salt
2 bay leaves
4 whole allspice
2 tablespoons fennel seed
4 cloves garlic, smashed
1 white onion, sliced
4 pork chops, each about 2 inches thick
4 sweet potatoes
2 cups heavy cream
Kosher salt and freshly ground black pepper
1 cup grated Gruyere cheese