Close Nave
Samuel Adams® Octoberfest Meatballs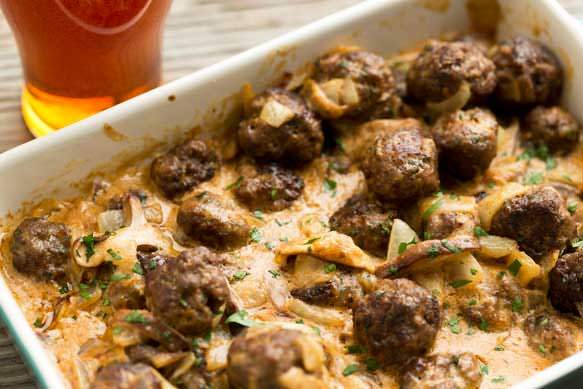 Directions
Yield: Serves 6
In a large bowl, mix together the garlic, grated onion, parsley, allspice, thyme, red pepper flakes, cayenne, salt, black pepper, and sugar. Add the beer, stir well and then set aside for at least 15 minutes for the flavors to develop.
Add the meat, eggs, breadcrumbs, and parsley to the bowl and mix everything well, using your hands or a large spoon. Cover with plastic wrap and refrigerate for at least 1 hour and for up to 4 hours.
Meanwhile, heat a large skillet on medium-high heat. Add the vegetable oil and when it's hot, pan fry the onions for about 10 minutes or until golden brown yet still crisp. Stir them often during cooking.
Between dampened palms, roll the meat into balls about 2 inches in diameter.
Heat another large, heavy skillet on medium heat and when hot, add the olive oil to coat the pan. Brown as many meatballs as will fit in the pan comfortably, turning them to insure even browning. As the meatballs brown, transfer them a large Dutch oven or similar covered, oven-proof casserole dish. Layer the meatballs with the browned onions.
To make the sauce: Heat a skillet over medium heat and when hot, heat the oil. Sauté the chopped onions for 6 to 7 minutes or until they wilt and turn a light, golden brown. Sprinkle the flour over the onions, stirring the onions constantly until golden brown.
Add the broth slowly, stirring all the while. Reduce the heat to medium-low and stir in the beer and then the sour cream, paprika and cayenne. When mixed will, gently stir in the mushrooms. Do not let the sauce boil. Season to taste with salt and pepper.
Pour the sauce over the meatballs and onions. Bring to a good simmer over medium-high heat, reduce the heat, cover, and simmer gently for about 45 minutes or until the meatballs are thoroughly cooked and the flavors are nicely blended.
Ingredients
Serves 6
Meatballs:

4 cloves garlic, finely minced and mashed
1/2 cup grated onion
2 teaspoons dried parsley
1 1/2 teaspoons ground allspice
1 teaspoon dried thyme
1 teaspoon dried red pepper flakes
1 teaspoon cayenne
1/2 teaspoon kosher salt
1/2 teaspoon freshly ground black pepper
1/2 teaspoon sugar
1 ounce (2 tablespoons) Samuel Adams OctoberFest Beer
2 pounds ground lean beef or pork, or a mixture of the two
2 large eggs
2/3 cup dried breadcrumbs
1/3 cup finely chopped flat-leaf parsley
2 tablespoons vegetable oil
4 cups coarsely chopped onions (about 2 pounds)
4 tablespoons olive oil

Sauce:

1/4 cup vegetable oil
2 onions, coarsely chopped
1/4 cup all-purpose flour
1 1/3 cups beef broth, preferably homemade, heated until hot
7 ounces (2/3 cup) Samuel Adams OctoberFest Beer
1 cup sour cream
1 tablespoon paprika
1/2 teaspoon cayenne
2 cups sliced mushrooms (about 6 ounces)
Kosher salt and freshly ground black pepper
1/2 cup finely minced flat-leaf parsley