Samuel Adams


Close Nave
Sizzling Chicken Fajitas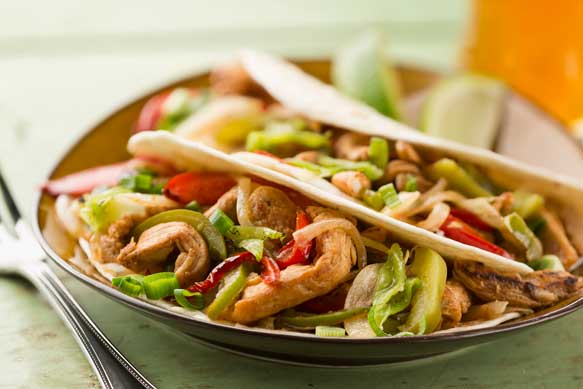 Directions
Yield: Serves 8
In a medium-sized saucepan, combine the nectar, lager, cloves, allspice, cinnamon, chiles, coriander, and cumin seeds. Bring to a boil over high heat and cook for 10 to 12 minutes or until reduced by about two thirds. Remove the pan from the heat and let the marinade cool. With a slotted spoon, remove and discard the cumin seed. Stir in the steak sauce, orange juice, lime juice, and oil.
In a glass, ceramic or rigid plastic container, pour the marinade over the chicken. Cover and refrigerate for at least 2 hours and up to 8 hours.
Preheat the broiler. Lay the chilies on a broiler pan and roast the chilies under the broiler, turning the chilies as they char on one side. When well charred, transfer the chilies to a small paper bag and let them cool. When cool enough to handle, rub the charred skin from the chilies. Slice the chilies and set aside. (The chilies can be charred in a hot oven or on a grill.)
Preheat the oven to 200°F.
Heat a large, heavy skillet over medium heat and when hot, add 3 tablespoons of oil. Add the onions, raise the heat to medium-high and cook for 3 to 4 minutes to brown them without softening too much. Transfer the onions to a large, ovenproof dish and keep them warm in the oven.
Cook the chicken in the hot pan for about 5 minutes, tossing to encourage even cooking. when cooked through, add to the dish with the onions. Add more oil to the pan if needed.
Add a tablespoon of oil to the skillet and when hot, cook the bell peppers for 2 to 3 minutes until lightly browned but not softened. Transfer to the dish with the onions and chicken to keep warm.
Heat a dry skillet over medium heat and briefly warm the tortillas in the pan just until supple. Put the tortillas on a work surface and fill each with the chicken mixture. Garnish with the scallions, nopalitos, and roasted chilies. Wrap the tortillas around the filling, and serve.
Ingredients
Serves 8
1 ½ cups mango, passion fruit, peach, or pear nectar
1/2 cup (4 ounces) Samuel Adams Boston Lager
1/2 teaspoon whole cloves
1/2 teaspoon whole allspice
1 stick cinnamon
1/2 teaspoon ground dried chilies or 2 serrano chilies, sliced thinly
1/2 teaspoon crushed coriander seeds
1/2 teaspoon cumin seeds
1/2 cup storebought steak sauce
Juice of 1/2 orange
Juice of 2 limes
1/2 cup extra-virgin olive oil
2 pounds skinless boneless chicken breasts, cut into strips
6 mild green chilies, such as poblano or anaheim
1/4 to 1/2 cup olive oil or peanut oil
2 large onions, sliced
2 bell peppers, seeded and thinly sliced
4 scallions, cut into 1-inch-long pieces, white and green parts
1 cup drained, sliced nopalitos (pickled cactus pads)
8 flour tortillas