Samuel Adams


Close Nave
Southwestern Beef Fajita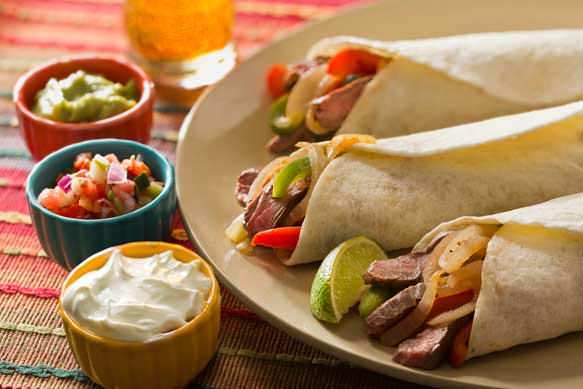 Directions
Yield: Serves 2
In a skillet, heat the oil over medium-high heat and when hot, sauté the beef for 2 to 3 minutes or until lightly browned. Add the onions, peppers and garlic and continue cooking, stirring constantly, for 3 to 4 minutes longer or until the vegetables start to soften.

Add the chili powder, cayenne, and salt and toss well to blend. Add the lager and cook, stirring, for 2 to 3 minutes longer or until well blended.

Remove the skillet from the heat and add the lime juice to the fajita mixture, tossing to blend lightly. Transfer to a serving bowl and garnish with cilantro.

Serve with warm tortillas, sour cream, salsa, and guacamole.
Ingredients
Serves 2
1 tablespoon canola or other vegetable oil
1/4 pound flank steak, thinly sliced
1/4 cup thinly sliced onion
1/4 cup thinly sliced red bell pepper
1/4 cup thinly sliced green bell pepper
1 teaspoon minced garlic
1/2 teaspoon chili powder
1/2 teaspoon cayenne
6 ounces (3/4 cup) Samuel Adams Boston Lager
1 teaspoon seasoned salt
Juice of 1 lime
1 tablespoon chopped cilantro
4 flour tortillas
About ¼ cup sour cream
About ¼ cup pico de gallo salsa, storebought or homemade
About ½ cup guacamole, storebought or homemade