Samuel Adams


Close Nave
Spiced Beef Sandwich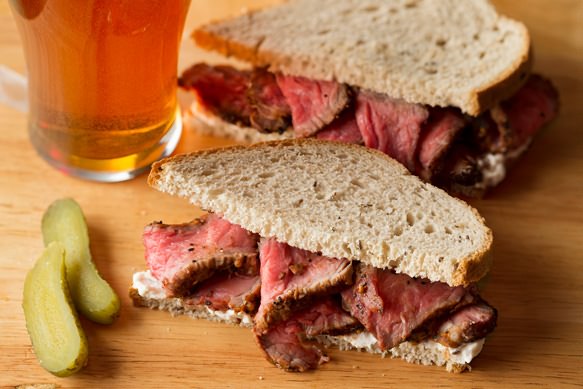 Directions
Yield: Serves 4
In a small bowl, stir together the pepper, coriander, mustard seed, caraway seed, paprika, and red pepper flakes.
Press the spice mixture into both sides of the meat to coat. Put the steaks on a plate, cover with plastic wrap, and refrigerate for at least 1 hour and up to 12 hours. When ready to cook, let the meat sit at room temperature for 10 or 15 minutes.
In a heavy sauté pan, heat the oil over medium-high heat. Cook the steaks for about 3 minutes on each side for medium-rare, or to your desired degree of doneness.
Remove to a cutting board and let the meat rest for about 5 minutes. Slice the steaks into very thin strips.
Spread the bread with the crème frâiche and then top with the sliced steak. Close the sandwiches, cut in half and serve immediately.
Ingredients
Serves 4
1 teaspoon black pepper
1 teaspoon ground coriander
1 teaspoon mustard seed
1 teaspoon caraway seed
½ teaspoon paprika
⅛ teaspoon hot red pepper flakes
4 Samuel Adams Boston Lager Cuts or strip steaks (about 6 ounces each)
4 tablespoons canola oil
8 slices rye bread
Horseradish Crème Fraîche