Samuel Adams


Close Nave
Sweet-and-Sour Pork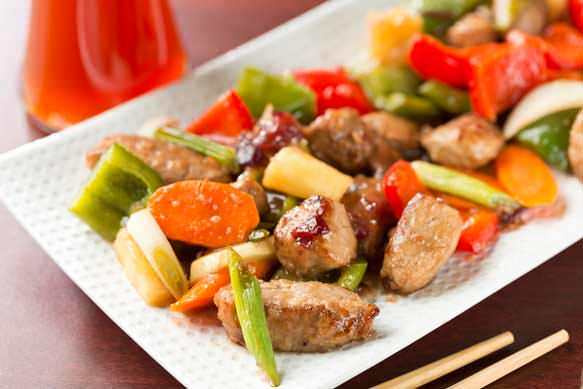 Directions
Yield: Serves 8 to 10
In a glass, ceramic, or rigid plastic dish large enough to hold the pork, mix together the soy sauce, Lambic, sesame oil, and garlic. Add the pork, turn to coat with the marinade, cover and refrigerate for at least 45 minutes and up to 4 hours.
Preheat the oven to 200°F.
Line a shallow baking pan with paper towels. Drain the pork and lightly coat it with the cornstarch. Shake off the excess.
In a wok, heat 3 tablespoons of the oil over medium-high until a deep-fat frying thermometer registers between 355° and 370°F. Fry about a third of the coated cubes for about 5 minutes total, or until golden brown, cooked through, and crispy. Turn at least once during frying. Lift the cooked cubes of meat from the oil and drain on the paper towel-lined baking pan. Keep warm in the oven. Add more oil to the pan, as needed, and continue frying the rest of the meat in batches, adding the cooked cubes to the baking sheet as they are done. Keep the pork warm while stir-frying the vegetables.
When the meat is cooked, drain the oil from the wok. Add 2 to 3 tablespoons of fresh oil and heat it over medium-high heat. When hot, stir-fry the carrots for about 2 minutes. Lift from the wok and set aside in a large bowl. Stir-fry the onions for about 2 minutes and then add to the carrots. Stir-fry the peppers for about 1 1/2 minutes and add them to the other cooked vegetables. Stir fry the scallions for about 1 minute and add to the bowl with the vegetables. Add more oil as necessary during stir-frying. The vegetables should be crispy and not soft.
Add 3 more tablespoons of oil to the wok and heat over medium heat. When heated, add the sugar and stir for about 2 minutes. Raise the heat to medium high, add the pineapple, ginger, and beer and cook for 5 to 6 minutes, stirring occasionally, or until the liquid is absorbed and the pineapple is glazed. Remove the pineapple and ginger from the wok and set aside.
To make the sauce: In a small bowl, stir together the Lambic, vinegar, soy sauce, and cornstarch. Pour into the same wok you have been using and add the cranberry sauce and peppercorns. Bring to a simmer over medium-high heat and cook for 3 to 4 minutes or until the mixture thickens slightly.
Toss the stir fried vegetables and glazed pineapple chunks in the sauce. Heat through and add the pork just before serving to retain its crispness. Serve immediately.
Ingredients
Serves 8 to 10
Ingredients:

2 1/2 tablespoons light soy sauce
1 ounce (2 tablespoons) Samuel Adams Cranberry Lambic
2 teaspoons dark sesame oil
1 large clove garlic, lightly mashed
2 pounds boneless lean pork, cut into 1 inch cubes
1 cup cornstarch, for coating
2 2/3 cups peanut oil or canola oil
2 carrots, sliced diagonally, 1/4-inch-thick
2 onions, quartered, each quarter cut into thirds
2 large red bell peppers, seeded and cut into 1-inch chunks
2 large green bell peppers, seeded and cut into 1-inch chunks
5 scallions, sliced diagonally into 1-inch-long pieces
1/3 cup raw or light brown sugar
1 large fresh pineapple, peeled, cored, and cut into 1-inch chunks
Knob fresh ginger, about 1 inch long, peeled and sliced
3 ounces (1/3 cup) Samuel Adams Boston Lager

Sauce:

4 ounces (1/2 cup) Samuel Adams Cranberry Lambic
1/4 cup red wine vinegar
2 tablespoons light soy sauce
1 tablespoon cornstarch
1 cup whole berry jellied cranberry sauce (about half of a 14-ounce can)
4 Szechwan peppercorns, crushed