Samuel Adams


Close Nave
Sweet Potato Turkey Chowder with Samuel Adams Cranberry Lambic Mousse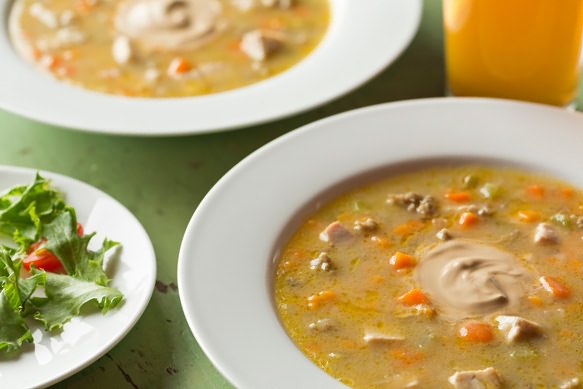 Directions
Yield: Serves 2 to 3
In a medium-sized saucepan, combine the beer and molasses and bring to a boil over medium-high heat. Boil for 12 to 14 minutes or until the liquid reduces to about 1/2 cup. Remove the pan from the heat and let it cool for 15 or 20 minutes. Cover and refrigerate until ready to serve.
In a large, heavy saucepan, cook the sausage meat over medium heat for 4 to 5 minutes or until the fat is rendered. Drain the fat but leave the meat in the pan. Add the sweet potato, onion, carrot, and celery, stir well and then stir in the flour. Cook for about 4 minutes, or just until the onions are translucent, stirring frequently. Stir in the turkey and then add the broth. Season to taste with salt and pepper.
Bring to a simmer, stirring occasionally, for about 15 minutes or until the soup thickens. Taste and, if necessary, adjust the seasoning with salt and pepper.
Meanwhile, in the bowl of an electric mixer fitted with the whisk attachment, whip the cream until soft peaks form. Fold the chilled beer-molasses reduction into the whipped cream to make a smooth mousse.
Ladle the turkey chowder into shallow soup bowls and dollop the creamy mousse on top of each serving.
Ingredients
Serves 2 to 3
24 ounces (3 cups) Samuel Adams Cranberry Lambic
¼ cup molasses
2 ounces breakfast sausage meat, crumbled
½ cup finely diced sweet potato
1/3 cup finely diced onion
¼ cup finely diced carrot
¼ cup finely diced celery
2 tablespoons all-purpose flour
1/3 cup chopped cooked turkey meat
3 cups turkey or chicken broth, preferably homemade
Kosher salt and freshly ground black pepper
1 cup heavy cream