Samuel Adams


Close Nave
The Ultimate Samuel Adams Cranberry Lambic Leftover T-Day Sandwich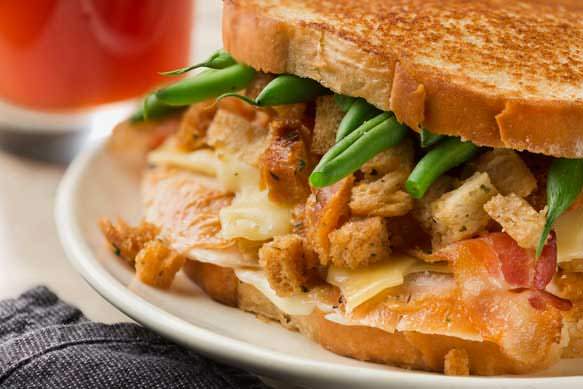 Directions
Yield: Makes 1 big sandwich
Preheat the oven to 350°F.

In a skillet, cook the bacon over medium heat for 3 to 4 minutes or until done to your desired degree of doneness. Drain on paper towels.

Put the stuffing in a bowl and add the beer to moisten it.

Spread 1 side of each slice of bread with butter. Turn over and spread the other side with mayonnaise.

With the mayonnaise-spread sides facing up, stack 1 slice with turkey, cheese, bacon, stuffing, and beans. Put the other slice of bread on top of the sandwich, buttered side up, and press down to hold the sandwich together. Insert a toothpick through each corner of the sandwich. Trim the toothpicks so that they are flush with the bread.

In an oven-safe, nonstick skillet, cook the sandwich for about 3 minutes on each side. Transfer to the oven and roast for 10 minutes, turning after 5 minutes. When browned and oozing with melted cheese, serve.
Ingredients
Makes 1 big sandwich
2 slices bacon
½ cup prepared stuffing
2 tablespoons Samuel Adams Cranberry Lambic
2 slices thick white bread
2 tablespoons unsalted butter, softened
2 tablespoons mayonnaise
1/2 pound white or dark meat cooked turkey, sliced
4 slices Swiss cheese
About ¼ cup cooked green beans or another vegetable