Samuel Adams


Close Nave
White Asparagus-White Ale Maple Soup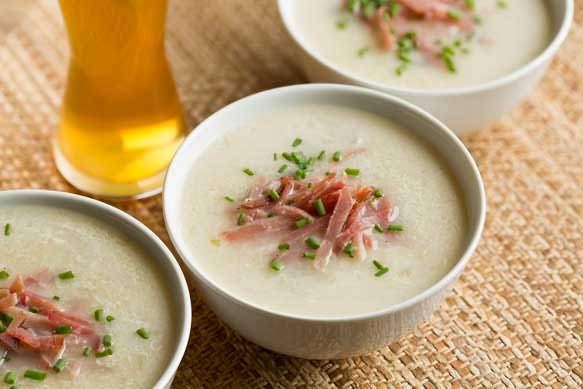 Directions
Yield: Serves 6 to 8
In a large pot or Dutch oven, heat the oil over medium heat. Add the shallots and onion and cook very slowly over medium-low heat for 15 or 20 minutes, stirring often, or until translucent. Do not let them brown.
Meanwhile, cut the asparagus stems to leave the tips and just a little stem.
Add the broth, ale, cream, syrup and asparagus to the pot and cook over medium heat for about 45 minutes or until the asparagus are tender. (If using canned asparagus, reduce the cooking time to 10 to 12 minutes, just until the soup is hot and the asparagus tender.)
Transfer the soup to a food processor or blender and process until fairly smooth and thick. You may have to do this in batches. Add some butter to each batch and process until smooth.
Return the soup to the pot and season to taste with salt and pepper. When hot, ladle into shallow soup bowls, garnish each serving with maple sugar, chives, and prosciutto, and serve.
Ingredients
Serves 6 to 8
3 tablespoons canola oil
4 shallots, sliced
1 onion, sliced
3 pounds fresh or canned white asparagus
8 cups chicken broth
1 cup (8 ounces) Samuel Adams White Ale
1/2 cup heavy cream
1/2 cup maple syrup
1 cup (2 sticks) unsalted butter, cut into pieces
Kosher salt and freshly ground black pepper
1 teaspoon maple sugar
3 tablespoons chopped fresh chives
2 ounces prosciutto, very thinly sliced and then cut into julienne (thin strips)