AN AGAINST-ALL-ODDS
AMERICAN SUCCESS STORY

Sam Adams is an against-all-odds American success story; the original American beer that took on the titans and revolutionized an entire industry. We pioneered Craft Beer over 30 years ago and ever since, we've pushed boundaries, silenced naysayers and trail-blazed the way for 4,000-plus craft brewers to follow in our footsteps. It takes grit to make it in America.
30 years ago Jim Koch had a vision of his American dream. Follow your dream and follow ours, too.
#PURSUEBETTER
BREWERY TOURS, SAM GEAR, AND MORE.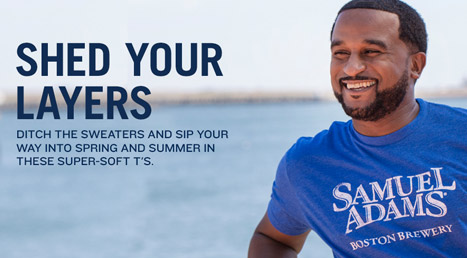 Ditch the sweaters and sip your way into Spring and Summer in these super soft T's!
Shop Now.