Close Nave


Introducing the Samuel Adams Flight Builder. Create, share and celebrate your very own Samuel Adams beer flights with friends and fans of great craft beer everywhere.
To get started, connect with Faceook: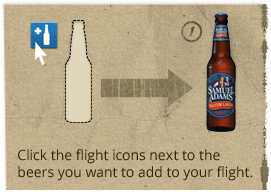 Our Flights
View, share and taste the official beer flights of Samuel Adams.
Samuel Adams

Andrew's Epic Flight

While Boston Lager will always be my go-to style, I appreciate the different aspects that each of these other brews bring to the table.

View Flight

Samuel Adams

Dean's Go-To Flight

Boston Lager is my "anytime" brew, but I enjoy the malty spice of Winter Lager, Stony Brook Red's complexity, and the hops of Double Agent.

View Flight

Samuel Adams

Grant's Amber Waves of Grain

Although all of these beers share a somewhat similar color, they really couldn't be more diverse in their overall profiles.

View Flight
Most Recent Flights
Check out the latest fan created beer flights for a little inspiration.
Cathy Koubenec

chill ride

running free

View Flight

Paula Ericsson

Spring TIme!!

View Flight

Ginger MacGruber

Chuck Wagon Flight

For the old man, delicious and light!

View Flight