Samuel Adams


Close Nave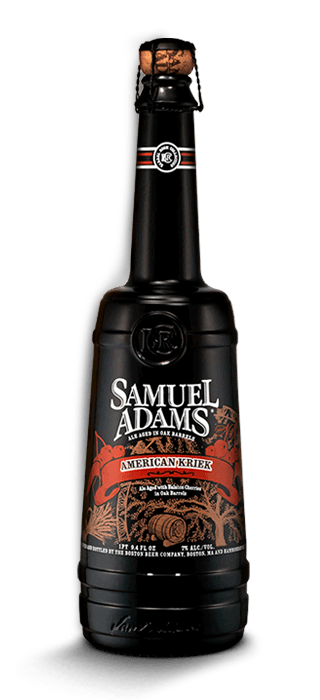 Samuel Adams
American Kriek
Find Near You
A bold aroma of cherries followed by a perfect balance of subtle malt sweetness & the tart flavor of dark cherries. This flavorful ale is our take on a Belgian Kriek. Aged on a bed of Balaton cherries for an intense black cherry character. The dark red fruit and tart sweetness is balanced & mellowed by a rich maltiness and hint of toasted oak.
HOP VARIETIES
Hallertau Mittelfrueh
MALT VARIETIES
Samuel Adams two-row pale malt blend, Caramel 60, Munich 10, Special B
YEAST STRAIN
Belgian Top-fermenting Ale
COLOR
Deep crimson, SRM: 37
SPECIAL INGREDIENTS
Balaton cherries
ALC. BY VOL/WT
7.0% ABV - 5.4% ABW
Food Pairings
Complement

Contrast
Every Craft Beer
Has a Story
THE TOOLS

The intense black cherry character in this brew comes from Balaton®* cherries, which were discovered in Hungary and are now grown in Michigan. These special cherries are prized for their depth of flavor. The tartness from the cherries is balanced by a rich, malty character with toasted oak notes added from the barrel aging.

*Balaton® is a registered trademark of Michigan State University, Michigan

THE TRADE

We age our Kriek on a bed of Balaton cherries from Michigan. The taste isn't like the jarred candy cherry flavor but instead tastes like the deep red ripe fruit. The resulting beer is blended with a small amount of our Kosmic Mother Funk®, to add another layer of flavor and tart character.

THE LEGACY

Kriek is a classic Belgian beer style, similar to a framboise that ferments a lambic with fruit. Krieks are fermented for several months with cherries. The fruit flavor of the cherries remains, while the sweetness gives way to a dry, tart and slightly sour beer. Traditionally, krieks are made with wild airborne yeast during open fermentation. For our brew we age the beer on a bed of cherries and blend it with a portion of our Kosmic Mother Funk, a Belgian Ale that's been aged for over a year in large oak tuns.