Close Nave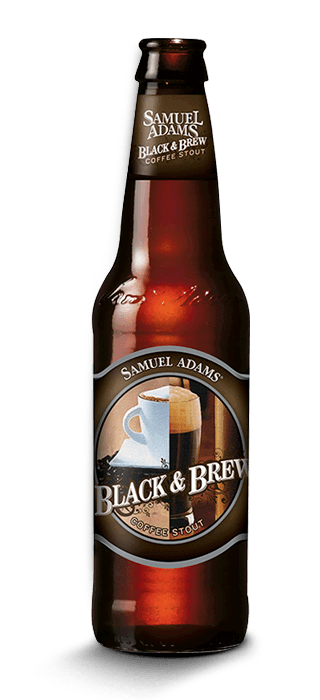 Samuel Adams
Black & Brew Coffee Stout
Find Near You
This dark brew combines deep roasted coffee with a rich, full-bodied stout. For the authentic coffee flavor, we use 1.5 pounds of Sumatran coffee beans per barrel to create a depth of robust roasty character. The blend of malts adds to these flavors with notes of chocolate, caramel, and dark fruit.
HOP VARIETIES
East Kent Goldings
MALT VARIETIES
Samuel Adams two-row pale malt blend, Special B, and roasted barley
YEAST STRAIN
Top-fermenting Ale
COLOR
Deep black, SRM: 80
SPECIAL INGREDIENTS
Sumatran coffee beans
ALC. BY VOL/WT
5.8% ABV - 4.5% ABW
AVAILABILITY
Limited Release
Every Craft Beer
Has a Story
THE TOOLS

Our coffee stout is a dark brew that combines roasted coffee with a rich, full-bodied stout. To achieve that intense flavor of coffee we use 1.5 pounds of Sumatran Arabica coffee beans per barrel. Coffee, similar to malt, gets its flavor from a combination of the bean variety and the roast. Sumatran coffee beans are roasted to nearly an espresso level to create just the right deep character with hints of dark fruit to complement the stouts chocolaty and caramel malt notes.

THE TRADE

To bring out all of the character of the Sumatran coffee beans we add them late in the brew to retain the most flavor possible. In addition to the roasted malts and coffee we use East Kent Goldings hops for a subtle earthy for rich, roasty, and enticing brew.

THE LEGACY

This flavorful brew takes a cue from English stouts that are sweeter than their dry Irish stout cousins. . Our brew's signature character, however, comes from the coffee beans themselves. Specifically we use, Arabica beans, grown in the northern region of Sumatra, an island in western Indonesia. Introduced to Indonesia by the Dutch in the late 1600s, Arabic was first grown in Sumatra in the late 1800s. Coffee from this region is known for its smooth yet intense character with cocoa and earthy notes. These layered flavors are a perfect marriage with the dark malts of this bold stout.