Close Nave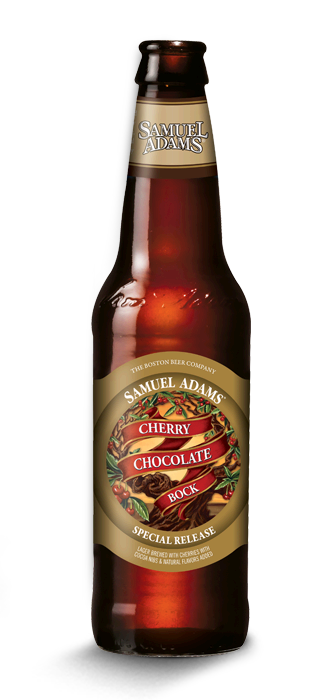 Samuel Adams
Cherry Chocolate Bock
Find Near You
This special release is brewed just for the holidays. For a new approach to a classic favorite, we added cherries to our traditional Chocolate Bock for a sweet, slightly tart note. Aged on a bed of dark cocoa nibs, the malty, chocolaty, and dark fruit flavors create a rich, complex beer perfect for winter.
HOP VARIETIES
Tettnang Tettnanger, Spalt Spalter
MALT VARIETIES
Samuel Adams two-row pale malt blend, Caramel 60, and Munich 10
YEAST STRAIN
Bottom-fermenting Lager
COLOR
Deep rich brown, SRM: 75
SPECIAL INGREDIENTS
Cocoa nibs and cherries
ALC. BY VOL/WT
5.8% ABV - 4.5% ABW
AVAILABILITY
Limited Release
Every Craft Beer
Has a Story
THE TOOLS

To create this rich and creamy brew, we wanted to go beyond dark roasted "chocolate" malt and age the beer on a bed of cocoa nibs, the primary ingredient in chocolate. These cocoa nibs are harvested in Ecuador and are known for their quality and flavor. They impart rich aromas and flavors from chocolaty to fruity, nutty, earthy, and citrusy.

What's different about this year's release is the addition of cherries. With their sweet, yet slightly tart character, cherries add a layer of complexity that both balances and complements the malty, chocolaty backbone.

THE TRADE

We develop the flavor and aroma of chocolate by aging the beer on a bed of rare dark cocoa nibs. As the beer matures, the flavors are released into the brew giving it a complex, full-bodied taste and velvety finish. A hint of vanilla melds the combination of flavors together. The chocolate combines with the deep roastiness of specialty malts and a subtle hop character for a rich, decadent, and wonderfully smooth brew.

Cherries are added early in the brew process, during the mash, to infuse the beer with fresh cherry aroma and a sweet, slightly tart flavor.

THE LEGACY

We started brewing our original Chocolate Bock over 10 years ago, but have continued experimenting with different chocolate varieties over the years, combining these with other flavors such as cherries. The combination of chocolate and cherry seemed like a perfect pair for the holiday season.

The pairing of beer and chocolate has a unique history itself. Recently it was discovered that the origins of chocolate stem from a brewing process. Mesoamericans, who flourished in Central America before it was colonized by the Spanish, developed chocolate as a by-product of fermenting cacao fruit to make a beer-like drink called chicha still brewed by South American tribal people.