Close Nave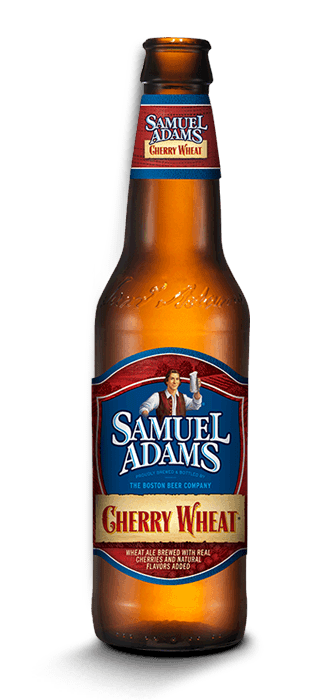 Samuel Adams
Cherry Wheat
Find Near You
Crisp and fruity with a hint of honey, this cherry brewed ale has surprising depth while being light on the palate.
HOP VARIETIES
Hallertau Mittelfrueh
MALT VARIETIES
Samuel Adams two-row pale malt blend, Munich 10, and malted wheat
YEAST STRAIN
Top-fermenting Ale
COLOR
Hazy golden, SRM: 6.4
SPECIAL INGREDIENTS
Cherry, honey
ALC. BY VOL/WT
5.3% ABV - 4.1% ABW
Food Pairings
Complement

Contrast
Every Craft Beer
Has a Story
THE TOOLS

Samuel Adams Cherry Wheat® follows the centuries old American tradition of brewing beer with native ingredients, in this case, Michigan cherries. The sweet, fruitiness of the cherries is balanced by the crisp, cereal note from the malted wheat and the subtle citrus character of the Noble hops. A touch of honey is also added for sweetness.

THE TRADE

Our original summer seasonal, this American wheat ale with its distinct cherry character developed such a strong following that it became a year-round style. Cherries are added during the mash to add a distinct sweet and slightly tart cherry flavor to the crisp cereal notes from the wheat and bright citrusy notes from Noble hops. A touch of honey is added at the end of the brewing process to make for a deliciously refreshing beer.

THE LEGACY

Cherries are believed to have come to the US from China around 4,000 B.C. Of course, Michigan's cherry history isn't quite as long. It was 1852 when Peter Dougherty planted the first cherry orchard in the Grand Traverse Area next to Lake Michigan. The location is ideal with its rolling hills and sandy soil for drainage and air flow as well as its proximity to the lake itself that calms winter winds and keeps the orchards cool in the summer. The cherries from the Grand Traverse area add just the right amount of fruit character to this delicious brew.