Close Nave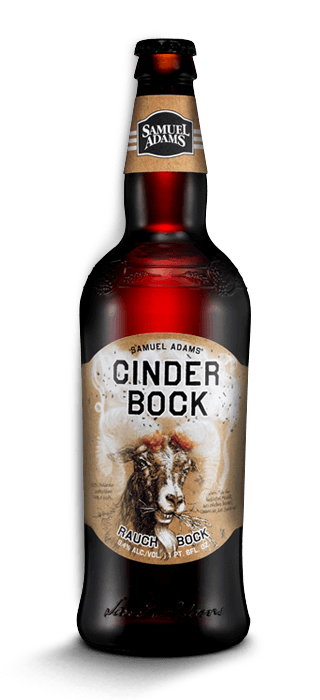 Samuel Adams
Cinder Bock
Find Near You
Unusual and playful this cross-breed brew begins with a rush of smoky, almost savory, aromas and flavors. The distinctive campfire smokiness of a rauchbier lingers and begins to reveal the rich and velvety malt smoothness of a double bock with notes of toffee and caramel. This roguish brew transforms from its bold start to a hearty and satisfying finish.
HOP VARIETIES
Hallertau Mittelfrueh
MALT VARIETIES
Samuel Adams two-row pale malt blend, Caramel 60, Munich, Smoked Malt
YEAST STRAIN
Samuel Adams lager
COLOR
Rich copper, SRM: 25
SPECIAL INGREDIENTS
ALC. BY VOL/WT
9.5% ABV - 7.3% ABW
AVAILABILITY
Limited Release
Food Pairings
Complement

Cut
Every Craft Beer
Has a Story
THE TOOLS

This bold and unusual brew takes the rich malty sweetness of a double bock in a different direction with the addition of smoked malts. These specialty malts create a big savory character that adds depth and character to the velvety and hearty smoothness of the bock.

THE TRADE

The distinctive smoky character of this brew comes its smoked malts. Historically, almost all malt had this smoky quality from the wood used in the kilning process. Once brewers switched to smoke free kilns to dry the malt, this characteristic was largely abandoned. But in Bamberg, Germany, brewers kept the flavor alive in several of their beer styles. Smoked malts gives their beers a campfire smoke taste with even a hint of bacon.

THE LEGACY

The inspiration for this unique brew was a combination of two traditional and bold German lagers: rauchbiers and bocks. Rauchbier translates to "smoke beer" and originated in Bamberg, Franconia, in the 16th century. Bock beers are known for their big and smooth malt flavor and sweetness. Bock translates to "billy goat" or "ram" in German, and pictures of these animals grace many bock bottle labels. Together these bold flavors play off of one another to create a warming, hearty, and distinctive brew.