Close Nave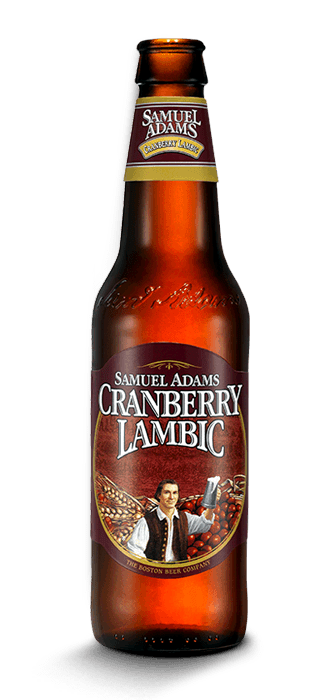 Samuel Adams
Cranberry Lambic
Find Near You
Tart and sweet, with complex fruit, maple, and vanilla notes. This is a fruit beer with a unique fermentation character that makes this a holiday favorite for many.
HOP VARIETIES
Hallertau Mittelfrueh
MALT VARIETIES
Samuel Adams two-row pale malt blend and malted wheat
YEAST STRAIN
W-68/Weissbier top-fermenting Ale
COLOR
Golden to deep red, 14 SRM
SPECIAL INGREDIENTS
Cranberries, black currants
ALC. BY VOL/WT
5.9% ABV - 4.6% ABW
Food Pairings
Cut

Contrast
Every Craft Beer
Has a Story
THE TOOLS

This unique brew draws its flavor from tart cranberries but also from the unique fermentation character imparted by its weissbier yeast.

The yeast creates notes of bananas, cloves, and nutmeg as well as a slight sourness. That tart sourness is combined with a subtle cereal note from the malted wheat and a touch of sweetness from currants.

THE TRADE

Lambics, which include , krieks (cherries) and framboise (raspberries) styles, are characterized by the complex spicy and fruity character of their wild yeasts. For our lambic we use a special yeast strain that imparts a distinctive sourness and sweetness but that isn't a wild yeast. To create the fruit character of the brew we use American cranberries for their tart sweetness and a touch of maple syrup reflecting traditional New England flavors of the holiday season.

THE LEGACY

Named for the town of Lembeek in Belgium, lambics date back over 400 years. Although all beer was once made with wild yeast, traditional lambics still employ this method with open fermentation in which the wort is left in an open vessel, where it's fermented by the yeast that's in the air. The process lends the beer its uniquely fruity fermentation character. Versions of lambics also employ fruits like cherries (krieks) and raspberries (framboise) to add sweetness to the brew. Although we don't use an open fermentation for our Cranberry Lambic the signature tartness, sourness, and complexity remain for a distinctive and flavorful treat.