Close Nave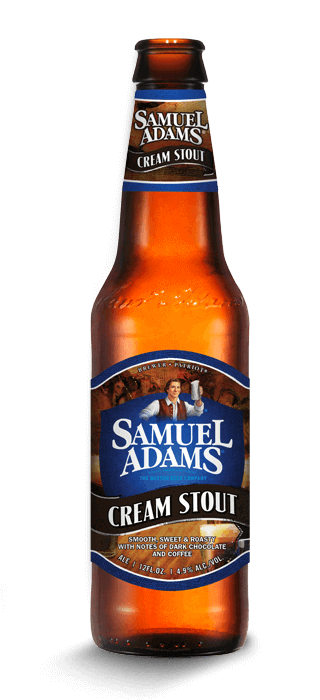 Samuel Adams
Cream Stout
Find Near You
Inspired by the traditional English sweet stouts, this rich and creamy brew is full of deep roasted character, with a subtle sweetness & indulgently smooth finish.
HOP VARIETIES
English Fuggles, East Kent Goldings
MALT VARIETIES
Samuel Adams two-row pale malt blend, malted wheat, roasted unmalted barley, chocolate malt, and Caramel 60
YEAST STRAIN
Top-fermenting Ale
SPECIAL INGREDIENTS
ALC. BY VOL/WT
4.9% ABV - 3.8% ABW
Food Pairings
Complement

Contrast
Every Craft Beer
Has a Story
THE TOOLS

Samuel Adams® Cream Stout is a true cream stout, balancing a rich roastiness with malt sweetness and a touch of English hops. We begin with generous portions of chocolate and caramel malts, as well as roasted un-malted barley to create a rich and full bodied flavor and creaminess. Its dark, mahogany color makes it as easy on the eyes as it is on the palate.

THE TRADE

Harkening back to the tradition of English sweet stouts, our cream stout has a rich smooth silkiness that differs from its Irish dry stout cousin. We use a traditional warm ale fermentation and long, cool aging process. A touch of sweetness is achieved by controlling the fermentation to leave behind malt sugars. This sweetness is crucial as it counter-balances the bitterness from the hops and the astringency of the highly roasted grains, such as dark roasted barley and chocolate malt.

THE LEGACY

Our version of an English sweet stout, our Cream Stout is sweeter and fuller bodied than a traditional Irish stout, which is drier and thinner with more roasted notes. Stouts are an extension of the 19thcentury porter style, originally called "extra stout porter beer." Sweet or milk stouts were a creamy version that originally utilized lactose to create a mild sweetness. The lactose isn't fermentable so it remains in the beer creating a "Milk Stout".