Close Nave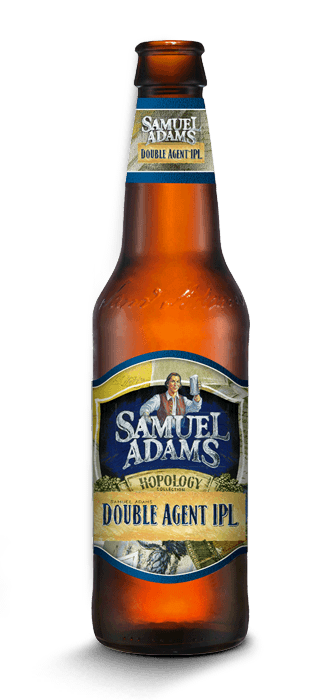 Samuel Adams
Double Agent IPL
Find Near You
Full of the bold grapefruit & piney character of an American IPA, this brew also reveals its smooth lager side creating a balanced, flavorful brew.
HOP VARIETIES
Zeus, Simcoe, Citra, Ahtanum, Cascade, Centennial, and Nelson Sauvin hops
MALT VARIETIES
Samuel Adams two-row pale malt blend and Munich malt
YEAST STRAIN
Botton-fermenting Lager
COLOR
Bright amber / 10 SRM
SPECIAL INGREDIENTS
ALC. BY VOL/WT
5.0%ABV - 3.9%ABW
CAL PER SERVING
AVAILABILITY
Limited Release
Every Craft Beer
Has a Story
THE TOOLS

Our fresh take on a boldly hoppy brew, this India Pale Lager (IPL) has a burst of citrusy hop character with notes of grapefruit, orange, and a hint of sweetness. To create this new style we began with the signature citrusy hop character of an IPA. We use a combination of American and New Zealand hops with citrus & tropical fruit notes from a blend of American Citra and Cascade, a pineyness from American Zeus hops and finally, a touch of fruitiness from New Zealand Nelson Sauvin hops for a layered hop character.

THE TRADE

Our brewers love the to ask "what if". What if we brewed with some of our favorite West Coast Hops and re-imagined an IPA as a lager. The yeast & long cold fermentation offer something unique, rounding out the bold hoppiness with just the right crisp smoothness for a brew that's full of character and flavor.

THE LEGACY

Full of the bold character of an American IPA, this brew also reveals its smooth lager side, creating a balanced, flavorful brew. India Pale Ales, or IPAs, were first brewed in the 18th century to satisfy the demand for beer by British colonists in India. American versions are known for their citrusy grapefruit hop-forward character. Although the style uses an ale yeast, we created Double Agent as a lager, giving this brew a clean, smooth taste and crisp finish. Lager yeasts work at cooler temperatures and take longer to ferment, which brings out the smooth, complex flavors of this brew.