Close Nave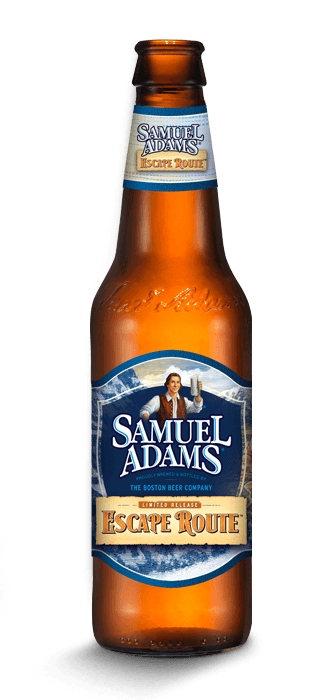 Samuel Adams
Escape Route
Find Near You
Escaping from winter's darkness, this hazy golden, unfiltered Kölsch style creates a fresh start. Our take on the classic hybrid style from Cologne Germany combines the subtle fruit notes of an ale with the smooth crispness of a lager for a bright, refreshing brew to help escape those lingering cold days. Available beginning in January.
HOP VARIETIES
Strisselspalt and Aramis
MALT VARIETIES
Samuel Adams two-row pale malt blend, acidulated malt, flaked barley, and carafoam
YEAST STRAIN
Samuel Adams Ale Yeast
COLOR
Golden, veiled / 7 SRM
SPECIAL INGREDIENTS
ALC. BY VOL/WT
5.0%ABV - 3.9%ABW
AVAILABILITY
Limited Release
Food Pairings
Complement

Cut
Every Craft Beer
Has a Story
THE TOOLS

Like a light at the end of a long winter, this hazy golden Kölsch-style is bright, fresh, & crisp, making it perfect for emerging from winter's hibernation. The classic Kölsch style, from Cologne Germany, is less bitter than a pilsner with a subtle fruitiness and hint of sweetness. For our version we wanted to compliment the beer's light crispness with the bright yet delicate freshness of Alsatian Strisselspalt & Aramis hops.

THE TRADE

Golden & hazy, this unfiltered Kölsch has a light and smooth taste with subtle notes of honey from the pale malts and flaked barley. To create this brew we used the traditional yet unique Kölsch yeast. This hybrid style yeast ferments at ale-like temperatures to develop delicate fruit notes but is then stored cold like a lager to develop a dry, crisp finish. To complement the brew's crispness we used Strisselspalt & Aramis hops from Alsace, France. These little known hops, derived from nearby Bavarian Noble hops, have a bright lemony, grassy hop flavor.

THE LEGACY

The Kölsch style originated in Köln (Cologne) Germany as their local specialty. To this day officially designated Kölschs must be from this area similar to Champagne in France. This bright, golden beer is traditionally served in small narrow glasses called "stanges" with rounds served automatically until your coaster tops the glass. Kölsch's brewing process is similar to the neighboring Altbier, from Düsseldorf. Both use warm fermenting ale yeasts but then employ cold lager-like storage. The only difference is Altbier's slightly darker malts and higher bitterness.