Close Nave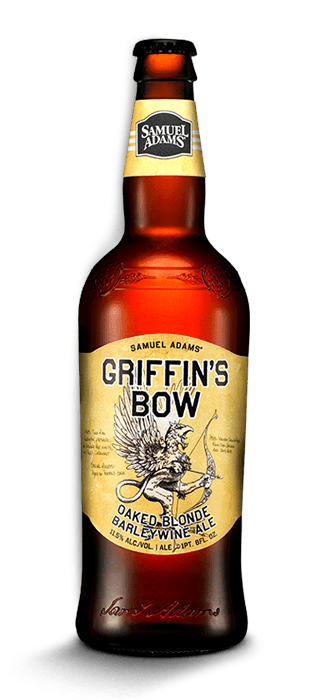 Samuel Adams
Griffin's Bow
Find Near You
From the aroma and notes of sweet honeysuckle, pineapple, and grapefruit, to richer hints of burnt sugar, and toffee, this intriguing brew is full of complex flavors. The distinct character of toasted oak adds depth and contrasts the light fruit sweetness. This new take on a barleywine surprises with its smoothness and balance of fruit, hop citrus, and warming strength.
HOP VARIETIES
Nelson Sauvin, Zeus hops
MALT VARIETIES
Samuel Adams two-row pale malt blend, Paul's Caramalt
YEAST STRAIN
Top-fermenting Ale
COLOR
Dark Golden, SRM: 12
SPECIAL INGREDIENTS
Toasted oak
ALC. BY VOL/WT
10.0% ABV - 7.8% ABW
Food Pairings
Complement

Contrast
Every Craft Beer
Has a Story
THE TOOLS

For this unique brew we wanted to take a different approach to a barleywine. Keeping the bold richness of the style but transforming it to a blonde version with oak for layers of complex flavors that range from tropical fruits to citrus to spice. Nelson Sauvin hops, from New Zealand, create citrus and grapefruit notes that add brightness to balance the brew's sweetness.

THE TRADE

We started with pale malts to give the beer its deep golden hue. When combined with the beer's strength, these malts created flavors of coconut, pineapple, grapefruit, honey suckle and even burnt sugar and toffee. To complement and deepen these vibrant flavors, we aged the beer with toasted oak for a distinct wood character and hints of vanilla.

THE LEGACY

By its golden color and flavors of tropical fruits and oak, this brew defies the expectation of a barleywine. As the strongest of the English ales, barleywines are known for their dark rich malt body and burly character. Versions of this ancient style are said to date back to the medieval times of William the Conqueror. Over the centuries it was a beer made on estates and small breweries for the aristocracy as the first and strongest batch. Its name derived from its wine-like strength.