Close Nave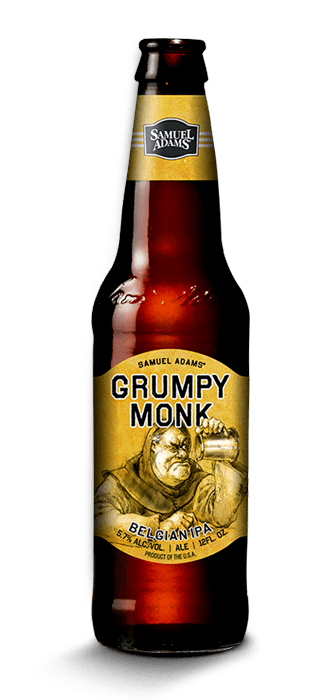 Samuel Adams
Grumpy Monk
Find Near You
The long held brewing traditions of Belgian monks aren't meant to be broken. Yet, to the monks' dismay, the distinctive character of Belgian yeast with its spicy clove and fruit notes can be reimagined when combined with the brazen hop character of an IPA. These hops impart a citrusy, piney, and earthy flavor that's balanced by a roasted malt sweetness for a complex and playful brew.
HOP VARIETIES
Ahtanum, Simcoe, Cascade, Amarillo, Fuggles, and Saaz
MALT VARIETIES
Samuel Adams two-row pale malt blend, Bohemian Pils Malt, Honey Malt
YEAST STRAIN
Belgian Top-fermenting Ale
COLOR
Copper to amber, SRM: 13
SPECIAL INGREDIENTS
ALC. BY VOL/WT
6.5% ABV - 5.1% ABW
AVAILABILITY
Year Round Draft Only
Food Pairings
Cut

Contrast
Every Craft Beer
Has a Story
THE TOOLS

Our inspiration for this brew began with the idea of taking some of the elements we loved about IPAs, with their citrusy, piney character, and seeing what happened when we combined it with other style influences. In our travels to Belgium we fell in love with the complex character of their distinctive yeasts with their spicy and fruity quality. This wasn't an obvious fit with the hop character of an IPA but we had to give it a shot. The trick was in finding the balance of these flavors. The result is golden ale with layers of complex flavor from apricot and clove, to a cereal maltiness, and a citrusy hop finish.

THE TRADE

The bright bold hoppiness of this brew comes from its combination of hops. We use Ahtanum, Simcoe, Cascade, and Amarillo American hops to impart a citrusy and piney character, English Fuggles for earthiness and Saaz for a slightly floral character. The bold hops are balanced by a light cereal note and backbone of malt sweetness from the Bohemian Pils and honey malts. To create the distinctive Belgian character of this brew we use a Belgian yeast to impart flavors of spicy clove, peach and apricot that adds a liveliness and complexity to the brew.

THE LEGACY

Belgian ales have a long history that differs from that of Germany or England. Instead of developing strict styles or a larger brewing industry, Belgium's beers grew from the monasteries resulting in a creative array of artisanal beers each with their own characteristics. What binds these unique brews together is the importance placed on the yeast to define the brew's character rather than the hops or the malt. IPAs by contrast are characterized by their hops. This close association began with the first versions brewed as highly hopped ales to make the trip from England to India, and extends today to the American IPAs known for their unmistakable hoppy punch of citrus and pine.