Close Nave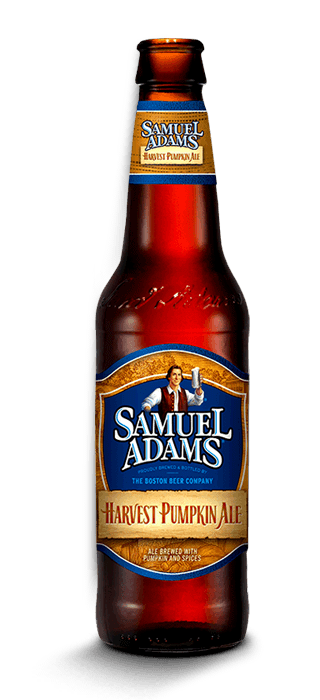 Samuel Adams
Harvest Pumpkin Ale
Find Near You
Real pumpkin & warming spices like ginger, cinnamon & nutmeg give this brew a smooth, hearty, and inviting character perfect for the crisper days of fall.
HOP VARIETIES
East Kent Goldings and Fuggles
MALT VARIETIES
Samuel Adams two-row pale malt blend, Caramel 60, Special B, and smoked malt
YEAST STRAIN
Top-fermenting Ale
COLOR
Dark reddish amber, SRM: 33
SPECIAL INGREDIENTS
Real pumpkin, cinnamon, ginger, nutmeg & allspice
ALC. BY VOL/WT
5.7% ABV - 4.4% ABW
Every Craft Beer
Has a Story
THE TOOLS

Early New England colonists were nothing if not resourceful. Lacking traditional malts, they added pumpkin to their brews, & the first pumpkin ales were born. This modern adaptation uses 4 different malts, and over 17 lbs. of real pumpkin per barrel, for a smooth, rich flavor and & unmistakable character. That's probably why this beer is a perennial favorite at our annual brewery Halloween party.

THE TRADE

To brew this fall favorite, we used a significant portion of real pumpkin. The pumpkin is added to the mash to bring out the true pumpkin flavor in the final brew. The pumpkin works with the malts, including our two-row pale malts, Caramel 60, Special B, and a smoked malt, to create body and sweetness with a roasty and nutty character. Once in the kettle we add classic pumpkin pie spices like clove, cinnamon, ginger, allspice, and nutmeg to enliven the brew and give it the spicy warmth of fall.



THE LEGACY

Pumpkin Ale is one of the oldest American beer styles. Early colonists lacked some of the classic beer ingredients, so in place of malt, other fermentable sugars like sweet potato, squash, and pumpkin were used. Alas, pumpkin beers were not as popular at first, because the pumpkin was used for its sugar alone, rather than its flavor. More recently, pumpkins have been used in addition to malt and other spices to create flavorful pumpkin ales.