Close Nave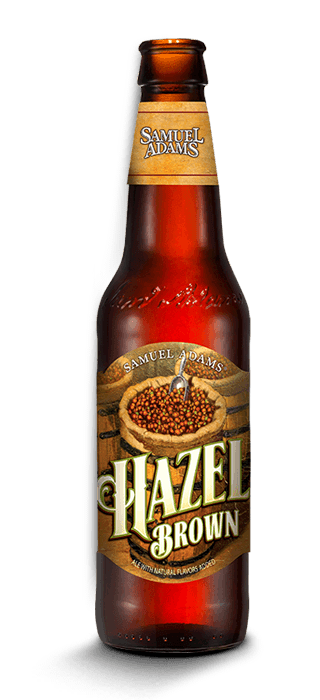 Samuel Adams
Hazel Brown
Find Near You
This flavorful dark brown ale has a distinct hazelnut aroma and taste. Slightly sweet caramel and toffee malt notes accentuate the pleasant roasted hazelnut character. This medium-bodied brew finished smooth with an underlying spiciness from the hops.
HOP VARIETIES
Hallertau Mittelfrueh Noble hops, East Kent Goldings
MALT VARIETIES
Samuel Adams two-row pale malt blend, Caramel 60, Dingeman's biscuit, Paul's roasted barley
YEAST STRAIN
Samuel Adams ale yeast
COLOR
Rich brown, SRM: 28
SPECIAL INGREDIENTS
ALC. BY VOL/WT
5.2%ABV - 4.0%ABW
AVAILABILITY
Not Currently Brewed
Every Craft Beer
Has a Story
THE TOOLS

Like every ingredient we use, the hazelnut, which is so often paired with a chocolate and other sugary treats, is something to savor. So it's no surprise that this flavorful nut brown ale's distinct hazelnut aroma and taste are accentuated by slightly sweet caramel and toffee malt notes.

THE TRADE

For this beer, we wanted to brew something that would be appealing and satisfying during the fall when the days become crisp and cooler. Brown ale, while a good beer any time of year, seemed like a great fit for this. While the brown ale was tasty by itself, we wanted to take it a step further by adding Hazelnut for a rounded flavor and richness that hints at cocoa.

THE LEGACY

While nut brown ales are a more recent creation, brown ales date back to 17th century England. As tastes began to shift towards lighter pale ales, brown ales with their more expensive malts, became harder to find. But their popularity returned around the 1920's as drinkers sought out the signature smooth and rounded flavor.

For our nut brown we started with the Northern English Brown Ale that's slightly more robust than the Mild or Southern English Brown Ales. The northern version also typically has a slightly bolder hop character and strength. To this smooth brown ale we wanted to add a bit more roasty and nutty character with the addition of hazelnuts creating a rich, rounded, and hearty brew for the fall.