Close Nave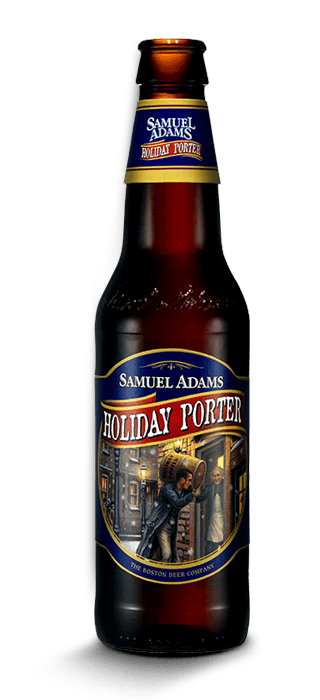 Samuel Adams
Holiday Porter
Find Near You
Deep, rich and roasty, this festive porter balances a smooth malty sweetness with an earthy hoppiness, this holiday classic has become a favorite among our winter seasonal brews.
HOP VARIETIES
East Kent Goldings, Fuggles, Spalt Spalter
MALT VARIETIES
Samuel Adams two-row pale malt blend, Caramel 60, Munich 10, Carafa®, and flaked oats
YEAST STRAIN
Top-fermenting Ale
COLOR
Dark ruby black, SRM: 55
SPECIAL INGREDIENTS
Flaked oats
ALC. BY VOL/WT
5.8% ABV - 4.5% ABW
Every Craft Beer
Has a Story
THE TOOLS

It's hard to imagine the holiday season without this brew. In the porter style tradition, this flavorful beer has a rich malt complexity and robust finish. Generous portions of deep, roasted malts complement the traditional earthy English ale hops and Bavarian Noble hops to create a delicious & inviting winter brew.

THE TRADE

We brew this festive porter with four types of malt including a specialty German malt called Carafa®*that along with a touch of flaked oats creates a smooth & rich silkiness. To this roasty malt character we add East Kent Goldings and Fuggles, traditional British ale hops, as well as Spalt Spalter, a Bavarian Noble hop. We also dry hop with the Goldings for an even more pronounced British hop character in both aroma and flavor.

*Carafa is a registered trademark of Weyermann Malt, Bamburg, Germany.

THE LEGACY

Samuel Adams Holiday Porter is our seasonal take on the traditional porter style that dates back to early 18th century England. After, or even during, a long day of heavy lifting and hauling, the porters of London craved a hearty and nourishing beer to "reinvigorate their constitutions." The brewers of the day obliged them, and the style has carried their name ever since.