Close Nave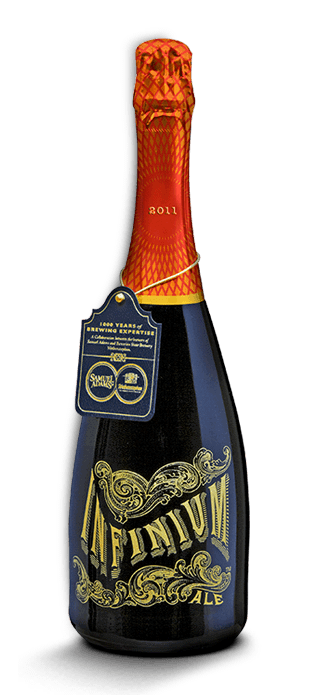 Infinium
Find Near You
As crisp champagne-like brew with fine bubbles and a fruity, spicy aroma, this beer is truly one of a kind.
HOP VARIETIES
Hallertau Mittlefrueh, Spalt Spalter, Tettnang Tettnanger, Hersbrucker
MALT VARIETIES
Custom blend of two-row malted barley, malted spring white wheat, and malted oats
YEAST STRAIN
Top-fermenting Ale, Belgian yeast
COLOR
Pale golden, SRM: 8
SPECIAL INGREDIENTS
ALC. BY VOL/WT
10.3% ABV - 8.1% ABW
Food Pairings
Complement

Cut
Every Craft Beer
Has a Story
THE TOOLS

We worked for two years with the world's oldest brewery, Germany's Weihenstephan, to create this groundbreaking brew. Despite its unforgettable flavor profile, Infinium™ is made with only the four traditional beer ingredients: malted barley, hops, water and yeast.

THE TRADE

Our team of brewers, along with Weihenstephan's, approached this beer as a challenge to create an entirely new brew within the confines of the Reinheitsgebot. Reinheitsgebot is Germany's beer purity law that allows for only the four traditional ingredients in brewing. We took a step back and looked at the process for inspiration, rearranging it to find new flavor potential. To create Infinium™ we reintroduced the mash process into the brew kettle and the fermenter and dry-hop with Bavarian Noble hops for a light citrus character for an added layer of complexity. The result is a bright crisp brew with a fine carbonation.

THE LEGACY

Creating a one-of-a-kind, champagne-style beer is that much harder when operating within the confines of Reinheitsgebot: the German Beer Purity Law dating back to 1516 which allows for the use of only water, malt, hops and yeast. To create an entirely new beer style, these constraints required our collective team brewers to challenge conventional thinking and look at the brewing process and ingredients varieties in a new way.