Close Nave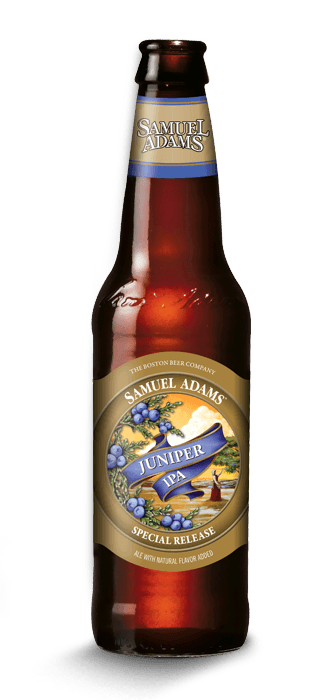 Samuel Adams
Juniper IPA
Find Near You
For this special release, we wanted to brew a flavorful winter IPA that captured the aroma of the season. This brought us to juniper berries, which add a slightly sweet, piney character. Complemented by citrus notes from American hops, this balanced IPA will brighten the holidays.
HOP VARIETIES
Columbus and Ahtanum American hops
MALT VARIETIES
Samuel Adams two-row pale malt blend and honey malt
YEAST STRAIN
Top-fermenting Ale
SPECIAL INGREDIENTS
Juniper berries
ALC. BY VOL/WT
5.8% ABV - 4.5% ABW
AVAILABILITY
Limited Release
Every Craft Beer
Has a Story
THE TOOLS

Juniper berries may not be the first thing you associate with winter, but they are a nice fit with the season. They give Samuel Adams Juniper IPA its piney wood character. They also add a subtle sweetness, which is a nice complement to the citrus and grapefruit flavors from the American hops. Honey malt gives a slight honey note to the aroma.

THE TRADE

The base of this beer is an IPA brewed with all American hops. The juniper berries don't come in until the end. While the beer is being dry hopped with Ahtanum hops, we add juniper for the finishing touch. Waiting until the last step ensures that we get the most juniper character – both in the aroma and flavor.

THE LEGACY

There's something special about the smell of pine and evergreen during the holidays. So we asked, why not capture that in a beer? Our plan for how to do this came in two parts – juniper berries and an IPA. Juniper berries were a quick choice, with their natural pine and woody character. And an American IPA, with its citrus and pine hop notes, seemed like a great balance. Now we have what we call a winter IPA, a great choice for the holidays.