Close Nave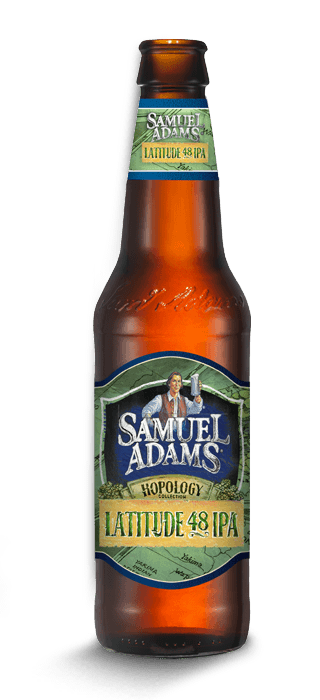 Samuel Adams
Latitude 48 IPA
Find Near You
Our new 2013 release introduces Mosaic™ hops from Washington to our select blend of German, English, and American hops, all grown close to the 48th Latitude.
HOP VARIETIES
Hallertau Mittelfrueh, East Kent Golding, Zeus, Simcoe, Ahtanum, Mosaic
MALT VARIETIES
Samuel Adams two-row pale malt blend, Caramel 60, and Gambrinus Honey Malt
YEAST STRAIN
Top-fermenting Ale
COLOR
Deep copper, SRM: 20
SPECIAL INGREDIENTS
ALC. BY VOL/WT
6.0% ABV - 4.7% ABW
Food Pairings
Complement

Contrast
Every Craft Beer
Has a Story
THE TOOLS

New Mosaic™ hops add a bright citrusy hop character to our 2013 release, featuring 5 different hops for a distinctive and layered IPA. The Mosaic hops complement the floral German Hallertau Mittelfrueh, earthy UK East Kent Goldings, and grapefruity American Simcoe® and Zeus to create a layered hoppiness that's full of personality.

THE TRADE

We start with a select blend of hops from top German, English, and American growing regions, all located close to the 48th latitude within the "hop belt" of the Northern Hemisphere. The result is a distinctive, but not overpowering, hop character. The distinctive hop character is balanced by a subtle malt from honey malt.

THE LEGACY

India Pale Ales, also known as IPAs, were first brewed in the 18th century to satisfy the demand for beer from the British in India. At the time, pale ales, brewed with pale kilned malts, had become very popular in England as an alternative to darker, more traditional brown ales, porters, and stouts. A version was brewed with increased hops, to help preserved the beer on its long hot journey at sea around the Cape of Good Hope, and the India Pale Ale was born.