Close Nave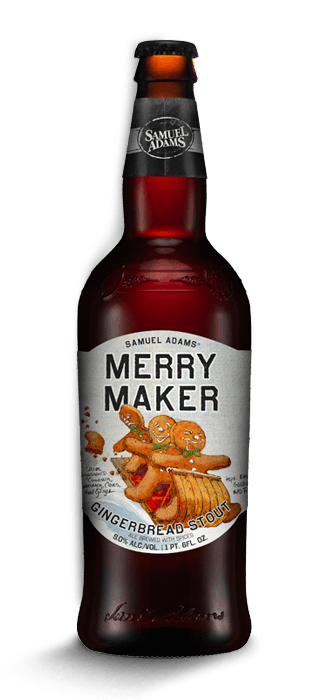 Samuel Adams
Merry Maker
Find Near You
This rich dark gingerbread stout entices with the aromas of the holidays. The flavor of gingerbread comes alive, beginning with the smooth sweetness and heartiness of dark roasted malts and a touch of wheat. But it's the intensity and spices of cinnamon, clove, nutmeg, & ginger that add a wicked kick for a jolly playful brew full of merry mischief.
HOP VARIETIES
East Kent Goldings and Fuggles
MALT VARIETIES
Samuel Adams two row pale malt blend, wheat, Special B, Paul's roasted barley, and flaked oats
YEAST STRAIN
Samuel Adams ale yeast
COLOR
Deep mahogany / 75 SRM
SPECIAL INGREDIENTS
Cinnamon, clove, nutmeg, & ginger
ALC. BY VOL/WT
9.0%ABV – 6.9%ABW
Every Craft Beer
Has a Story
THE TOOLS

We began this holiday brew by trying to capture the flavor of gingerbread in an intense stout. Spices of cinnamon, clove, nutmeg and ginger add a merry and lively kick to the dark roasty malts while classic English hops add an earthiness.

THE TRADE

To bring to gingerbread to life we wanted to create that distinctive richness and spicy kick. We strengthened the dark stout and added a touch of flaked oats for a full body and smoothness. The dark malts create a sweet roastiness with hints of cocoa and a slight nuttiness. The combination of spices of cinnamon, nutmeg, cloves, & ginger create a layer of complexity and lingering heat. The cinnamon and clove create a peppery heat while the ginger and nutmeg add an earthiness that marries perfectly with the hops. All of the ingredients come together to create that nostalgic taste of gingerbread for a festive and warming winter brew.

THE LEGACY

Brewers have long brewed for the season, originally due conditions and ingredient availability but also to celebrate. One such tradition were the maltier spiced brews called "wassails". These mulled concoctions were enjoyed for the holidays begetting the term of going "a wassailing". Going back to the days of Dickens, we found our inspiration for this gingerbread stout. The traditional English stout, with its dark roasted malts, is the perfect backdrop for the warming spices of gingerbread. To go one step further, we increased the strength and added flaked oats to create a velvety smoothness that mimics the taste of the gingerbread for a warming treat on any winter's night.