Samuel Adams


Close Nave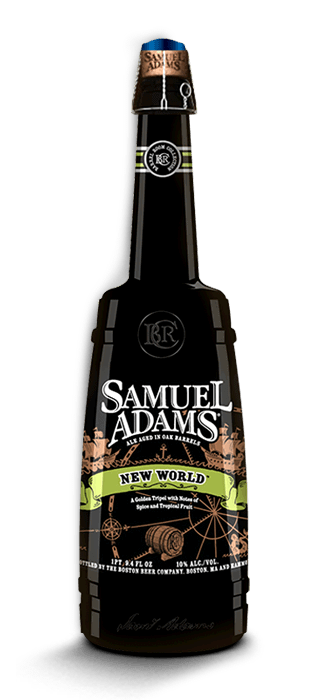 Samuel Adams
New World®
Find Near You
This Tripel was born from the old world Belgian technique of barrel aging and the new world's craft brewing innovation. With its pale golden color and uniquely refreshing taste, this big, flavorful, and complex brew has a subtle herbal hop character combined with the tropical fruit and spice notes of its special Belgian yeast.
HOP VARIETIES
Tettnang Tettnanger, Saaz
MALT VARIETIES
Samuel Adams two-row pale malt blend and malted wheat
YEAST STRAIN
Belgian Top-fermenting Ale
COLOR
Pale golden with a slight haze, SRM: 9
SPECIAL INGREDIENTS
Kosmic Mother Funk
ALC. BY VOL/WT
10.0% ABV - 7.7% ABW
Every Craft Beer
Has a Story
THE TOOLS

Pale gold in color, this brave new ale is big, flavorful and complex. The special Belgian yeast strain adds tropical fruit and spice notes to the crisp dry ale, while Saaz hops add a subtle herbal note.

THE TRADE

For our take on a Belgian Tripel we use a combination of two row malts, Tettnang & Saaz hops and a special Belgian yeast to create a bright and flavorful ale with notes of tropical fruit. At finishing we blend in a small amount of our Samuel Adams Kosmic Mother FunkÒ (KMF), a Belgian ale that we've aged in large oak tuns for over a year. While in these oak vessels, the beer undergoes a long secondary fermentation with brettanomyces and lacticobacillus to give the beer a rich character, a tropical fruit note and touch of sourness. For New World, KMF is blended to add a layer of subtle earthiness. The character is much more subtle than in some of our other Barrel Room Collection brews. Once the beer is blended its bottle conditioned, which allows for an additional fermentation, giving the beer an extra smooth and balanced mouth feel.

THE LEGACY

Tripels originated in the Trappist brewing tradition of Belgium. The term "Tripel" refers to the amount of malt used versus the standard Trappist "single." Akin to Belgian golden ales, tripels are often stronger and aged with a golden color and dense, creamy head. Their color belies layers of flavor, complexity and the higher alcohol content of the beer itself. The taste runs from spicy to fruity and sweet from the alcohol.