Close Nave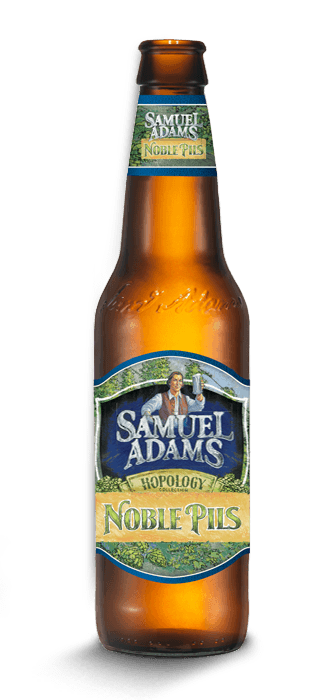 Samuel Adams
Noble Pils
Find Near You
Citrus & floral character from its 5 Noble hops and a honeyed sweetness from Bohemian spring barley make this crisp golden lager anything but a plain pilsner.
HOP VARIETIES
Hallertau Mittelfrueh, Tettnang Tettnanger, Spalt Spalter, Saaz, Hersbrucker
MALT VARIETIES
Samuel Adams two-row pale malt blend and Czech pilsner malt
YEAST STRAIN
Bottom-fermenting Lager
COLOR
Deep golden, SRM: 5
SPECIAL INGREDIENTS
ALC. BY VOL/WT
4.9% ABV - 3.8% ABW
AVAILABILITY
Limited Release
Every Craft Beer
Has a Story
THE TOOLS

Noble hops are so called as they are the original hop varieties from the world's oldest growing regions in Bavaria and the Czech Republic, and are prized for their delicate aroma and flavor. Each of the five Noble hop varieties used in Samuel Adams® Noble Pils adds a slightly different aroma and flavor to the beer, from citrus and spice to pine and floral. The result is a boldly flavorful pilsner that's crisp, complex and refreshing.

THE TRADE

In crafting a classic Bohemian Pils we used a special Bohemian spring barley that's been crafted using an old world, labor intensive technique called floor malting. The barley is laid out on the floor and hand turned daily until it is sufficiently dried. This traditional malt adds a rounded and delicate malt character to the brew's distinctive hoppiness.

THE LEGACY

The Czech Republic has a long history of brewing that dates back to the 12thcentury. In 1842, a brewer in the town of Plzen created a beer that was the first of its kind. Brewed with newly available pale malts, aromatic Czech Saaz hops and bottom fermenting lager yeast, the pale, clear, refreshing beer was in stark contrast to the dark murky ales of the day. Dubbed "pilsner" after the town where it was created, it became a sensation across Europe. Samuel Adams® Noble Pils follows in the tradition of the first Bohemian pilsners.