Close Nave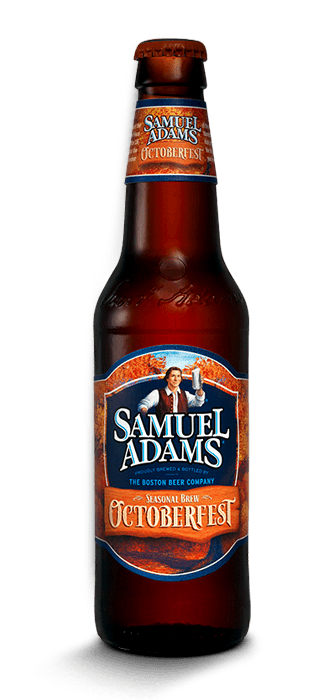 Samuel Adams
OctoberFest
In 1810, the Oktoberfest tradition was born when Munich celebrated the Crown Prince's wedding with a special beer and 16 day party. Our version of this classic style blends hearty malts for a deep, smooth flavor with notes of caramel creating a brew that's perfect for the season, or whatever you're celebrating.
HOP VARIETIES
Tettnang Tettnanger, Hallertau Mittelfrueh
MALT VARIETIES
Samuel Adams two-row pale malt blend, Munich-10, Samuel Adams Octoberfest malt, and Caramel 60
YEAST STRAIN
Bottom-fermenting Lager
COLOR
Deep red amber, SRM: 20
SPECIAL INGREDIENTS
ALC. BY VOL/WT
5.3% ABV - 4.1% ABW
Food Pairings
Complement

Contrast
Every Craft Beer
Has a Story
THE TOOLS

The first thing you notice when pouring a glass of this seasonal beer is the color: a rich, deep reddish amber hue, which itself is reflective of the season. This gorgeous and inviting color is the result of using a rich blend of malts and traditional brewing techniques.

THE TRADE

Although today's German Oktoberfests have become much lighter in color the original versions were known for their roasty malt sweetness and body. Our Octoberfest pays homage to the Bavarian tradition by blending generous portions of hearty malted barley to create a rich toffee sweetness. To this malty backbone we add the Bavarian Noble hops Tettnang Tettnanger and Hallertau Mittelfrueh. Given that we tend to be in Bavaria for hop selection each fall, this brew holds a special place in our hearts.

THE LEGACY

Oktoberfest beers fall into the märzen style, whose name is derived from the month in which it was traditionally brewed. Before refrigeration, March was the last month that beers could be put into cold storage or lagering where they'd age during the summer and be enjoyed for the fall harvest. Märzens became a staple of the annual Oktoberfest celebration in Munich, which was originally held in 1810 to celebrate the marriage of the Crown Prince of Bavaria. Now a world renowned celebration of beer, Oktoberfest runs for sixteen heady days every autumn, on fairgrounds known as "Teresienwiese," in Munich, Germany.