Close Nave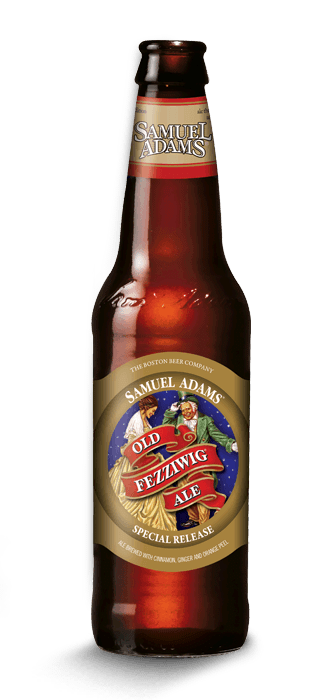 Samuel Adams
Old Fezziwig Ale
Find Near You
Spicy & bold, this festive ale is bursting with the flavors of the season. With a full body and spice it'll help those long winter nights pass more quickly. The rich malt character creates notes of sweet toffee, caramel, & roasty chocolate while classic holiday spices like cinnamon, ginger and orange peel dance on the tongue bringing with them the celebratory spirit of the season.
HOP VARIETIES
Hallertau Mittelfrueh, Tettnang Tettnanger
MALT VARIETIES
Samuel Adams two-row pale malt blend, Munich 10, and chocolate malt
YEAST STRAIN
Top-fermenting Ale
COLOR
Deep mahogany brown, SRM: 38
SPECIAL INGREDIENTS
Orange peel, ginger, cinnamon
ALC. BY VOL/WT
5.9% ABV - 4.5% ABW
Food Pairings
Complement

Contrast
Every Craft Beer
Has a Story
THE TOOLS

One of our original holiday brews that we like to call the Christmas cookie of beers due to its combination of spices including ginger, cinnamon, and orange peel. This full bodied brew showcases an array of malts, resulting in flavors ranging from sweet toffee and caramel to dark roasted chocolate. Holiday spices like cinnamon, ginger and orange peel create a warm, festive character that we love coming back to each winter.

THE TRADE

A classic brown ale, Old Fezziwig is brewed with a generous portion of spices including cinnamon, ginger & orange peel. The spices are added to the kettle, like the hops, to impart a deep spice complexity that complements the roasty malt sweetness.

THE LEGACY

There's a long tradition of brewing for styles for the season, and none more closely tied than that of a winter warmer. The colder season often brought on richer, maltier beers including some that were spiced in the "wassail" tradition. Today, wassail is a spiced punch akin to a mulled cider but originally it was also a mulled beer. Classic spices of ginger, nutmeg, and cinnamon would be heated with the ale. Winter warmers like Old Fezziwig use this spicing tradition to create a brew that celebrates the tastes of the season.