Close Nave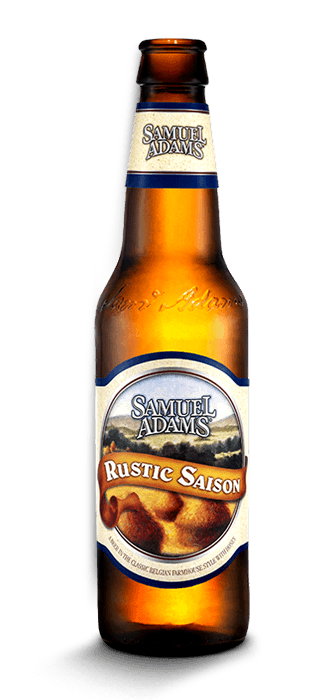 Samuel Adams
Rustic Saison
Find Near You
Incredibly complex yet refreshing, Rustic Saison is brewed in the farmhouse beer tradition. Unique floral, fruity, and estery flavors are imparted from Belgian yeast. These flavors are layered with a citrusy and herbal hop character for a bright and satisfying brew.
HOP VARIETIES
Hersbrucker, Tettnang Tettnanger
MALT VARIETIES
Samuel Adams two-row pale malt blend, malted wheat, and Bohemian pils malt
YEAST STRAIN
Belgian Top-fermenting Ale
COLOR
Hazy golden, SRM: 5
SPECIAL INGREDIENTS
ALC. BY VOL/WT
4.4% ABV - 3.4% ABW
AVAILABILITY
Not Currently Brewed
Food Pairings
Complement

Cut
Every Craft Beer
Has a Story
THE TOOLS

Our take on a classic Belgian farmhouse ale brewed with our distinctive yeast. These blonde ales were traditionally brewed to quench the thirst of farmers throughout the summer months. The unique character of our brew comes from its Belgian yeast that imparts floral, fruity, and spicy flavors. These are layered with a slight earthiness and a citrusy, herbal hop character for a bright and satisfying summer brew.

THE TRADE

The unique character of this brew comes from our Belgian yeast that creates a wide range of complex flavors that range from herbal rosemary and floral to spicy clove and estery notes. These nuanced flavors complement a subtle cereal note from the Bohemian pils malt and wheat. To give the beer a pleasantly fresh and floral bitterness we use Hersbrucker and Tettnang Noble hops. For a hint of floral sweetness we add a touch of heather honey in the brew kettle to bring all of the flavors together.

THE LEGACY

Saisons (French for "season") originated in the Wallonia region of Belgium as a refreshing, low-alcohol pale beer. These sessionable brews were made seasonally to refresh farm workers during the harvest. They were brewed with lower alcohol levels so farmers could return to work, but with complex flavors to quench and satisfy their thirst. Saisons were also traditionally brewed with assertive hops to help preserve the beer throughout the season.