Close Nave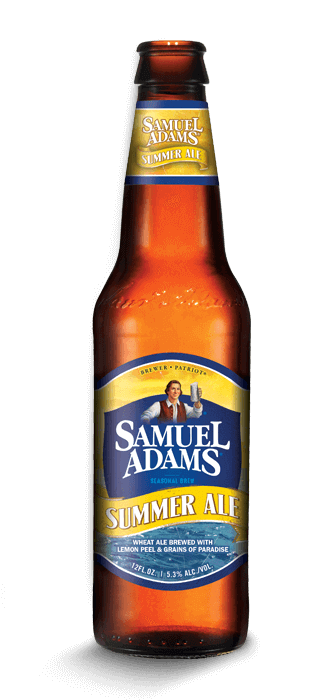 Samuel Adams
Summer Ale
Crisp and tangy with refreshing lemon peel and a hint of pepper from rare Grains of Paradise. Golden, hazy, & thirst quenching, this American wheat ale balances bright citrus, Noble hops & spice for a lively brew that's perfect on any summer day.
HOP VARIETIES
Hallertau Mittelfrueh and Saaz Noble hops
MALT VARIETIES
Samuel Adams two-row pale malt blend, and malted wheat
YEAST STRAIN
Top-fermenting Ale
COLOR
Golden, veiled, SRM: 6
SPECIAL INGREDIENTS
Lemon peel, Grains of Paradise
ALC. BY VOL/WT
5.3% ABV - 4.2% ABW
AVAILABILITY
Seasonal (March - July)
Food Pairings
Complement

Contrast
Every Craft Beer
Has a Story
THE TOOLS

With its hazy golden color & bright character, this flavorful American wheat ale says summer. The crisp citrus character of Noble hops, wheat, & lemon peel combines with the subtle peppery spice of Grains of Paradise. Grains of Paradise, also known as the Melegueta pepper, are more closely related to cardamom than pepper. According to medieval legend Grains of Paradise was erroneously thought to have aphrodisiac properties. This rare African pepper was first used as a brewing spice in the 13th century, and adds just the right kick for a lively, flavorful, & utterly refreshing brew.

THE TRADE

To create this crisp and citrusy summer favorite we combine malted wheat, lemon peel and Grains of Paradise. The pepper adds just the right bite to the crisp cereal character and lemon citrus of this unfiltered wheat ale. The ale fermentation imparts subtle tropical fruit notes like mangos and peaches that accent the citrus. All of these flavors come together to create a thirst quenching and flavorful brew that's perfect on any summer.

THE LEGACY

Our summer brew is a spiced American wheat ale with its roots in Belgian witbiers. These "white beers" first appeared in the 14th century in a wheat growing region near Brussels. The style got its name from its lighter color and cloudiness, or veil - the result of suspended wheat proteins in the beer. Instead of using the traditional orange peel and coriander, we use lemon peel and Grains of Paradise to create this distinctive and refreshing summer favorite.