Close Nave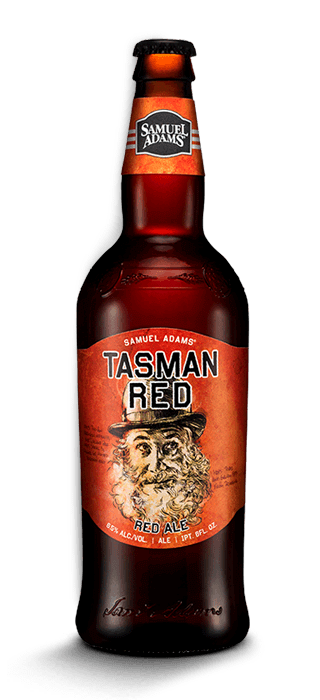 Samuel Adams
Tasman Red
Find Near You
This wily red IPA gets its character from the Tasmanian hops that are full of grapefruit, pine, and earthy notes creating a bold flavor that threads throughout the taste. The hops are balanced by a core of roasty malts that give this brew body and richness with hints of toffee. This flavorful brew is rounded and smooth with a dry and citrusy hop finish.
HOP VARIETIES
Topaz, Galaxy
MALT VARIETIES
Samuel Adams two-row pale malt blend, Special B, Caramel 60, Carafa III
YEAST STRAIN
Top-fermenting Ale
COLOR
Rich garnet, SRM: 45
SPECIAL INGREDIENTS
ALC. BY VOL/WT
6.5% ABV - 5.3% ABW
Every Craft Beer
Has a Story
THE TOOLS

Samuel Adams® Tasman Red begins with Topaz and Galaxy hops, grown in Tasmania and Victoria, Australia. These specialty hops are full of grapefruit, pine, and earthy notes, creating a bold flavor that prevails throughout tastings.

THE TRADE

For this brew, we wanted to experiment with the flavorful and citrusy Tasmanian hops. We came across Topaz and Galaxy hops, grown in Tasmania and Victoria Australia that give the beer a bold hop character. This flavorful Red IPA is about more than the hops though. Their bright and citrusy character is supported by the rich roasty caramel notes of our specialty malts. The combination of these two streams creates a brew that's earthy, lively, and smooth.

THE LEGACY

The history of Australian beer is fascinating. It was first brought down under by Captain Cook, who transported beer aboard his ship Endeavour to preserve drinking water in 1768. Two years later, when Cook became the first European to discover the east coast of Australia, beer was still being consumed aboard his ship. Although IPAs date back for centuries to the days of the East India Company, Red IPAs are a much more recent creation. Craft brewers have begun experimenting with all types of variations on the hoppy IPA style. For Tasman Red we wanted to take the citrusy and grapefruit character of Australian hops and combine it with the roasty caramel malts smoothness. Each side of the brew balances the other for a rounded yet.